Publication:
Análisis de la evolución tectónica de los márgenes hiper-extendidos mediante la integración de datos sísmicos, gravimétricos y magnéticos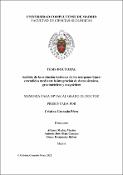 Files
Authors
Advisors (or tutors)
Olaiz Campos, Antonio José
Editors
Publisher
Universidad Complutense de Madrid
Abstract
Los márgenes hiperextendidos presentan una gran heterogeneidad transversal y longitudinal, por lo que la definición de dominios tectónicos realizada casi exclusivamente a partir de secciones sísmicas 2D presenta serias limitaciones. La estructura del Margen Occidental Ibérico (MOI) es heterogénea en toda su extensión. Esta heterogeneidad se debe a la naturaleza del basamento anterior al proceso de rift (Murillas et al., 1990), y a que su formación implica varios episodios de rifting y una inversión tectónica parcial posterior (Boillot y Malod, 1988).La estructura clásica de primer orden de este margen (y otros) de rift hiperextendido y pobre en magma muestra secciones transversales "idealizadas" con un conjunto de dominios de rift desde el continente hasta el océano (p. ej., Tugend et al., 2015).Los límites entre los diferentes dominios tectónicos del MOI han sido discutidos por diversos autores (p. ej., Péron-Pinvidic et al., 2013; Weldford et al., 2010; Nirrengarten et al., 2018; Druet et al., 2018), basándose en criterios geofísicos y estructurales. Entre ellos destaca el factor de estiramiento, que es una medida de estiramiento tectónico y adelgazamiento de la corteza. Estos criterios se apoyan principalmente en la interpretación de las secciones sísmicas de reflexión regionales, en unos pocos datos de pozos disponibles y, en menor medida, en los datos de campos potenciales. Sin embargo, los criterios utilizados para definir los diferentes dominios no siempre coinciden entre los distintos autores (Péron-Pinvidic et al., 2013; Mohn et al., 2015; Tugend et al., 2015; Stanton et al, 2016). Las razones para esta variabilidad son múltiples: la complejidad de la estructura extensional; los efectos de la herencia estructural y reológica en las múltiples fases de extensión; y los procesos geológicos posteriores que han modificado la estructura extensional (p. ej., la reactivación compresiva), y el hecho de que la mayoría de los estudios anteriores se han basado en datos sísmicos 2D muy limitados espacialmente...
Hyperextended margins show great transversal and longitudinal heterogeneity, such that definition of tectonic domains made exclusively from 2D seismic sections can have major limitations.The structure of the West Iberian margin (WIM) is heterogeneous along its entire length. This heterogeneity stems from the nature of the pre-rift basement (Murillas et al., 1990), and an added complexity, related to the fact that its formation involves several rifting episodes and a posterior partial tectonic inversion (Boillot and Malod, 1988).Classical first-order architecture of this (and other) hyperextended magma-poor rifted margin shows "idealized" cross sections with a set of key rift domains from continent to ocean (e.g., Tugend et al., 2015).The boundaries between the different tectonic domains of the WIM have been discussed by diverse authors (e.g., Péron-Pinvidic et al., 2013; Weldford et al., 2010; Nirrengarten et al., 2018; Druet et al., 2018), based on geophysical and structural criteria; among others the stretching factor, a measure of tectonic stretching and crustal thinning. These criteria are mainly supported by the interpretation of regional reflection seismic sections, by the few well data available, and, to a lesser extent, by potential field data. However, the criteria used to define the different domains does not always coincide among different authors (e.g., Péron-Pinvidic et al., 2013; Mohn et al., 2015; Tugend et al., 2015; Stanton et al., 2016). There are several reasons for this variability: the complexity of the extensional structure, the effects of structural and rheological inheritance on multiple phases of extension, later geological processes that have modified the extensional structure (e.g., compressive reactivation), and the fact that most previous studies have been based on limited/localized 2D seismic data...
Description
Tesis inédita de la Universidad Complutense de Madrid, Facultad de Ciencias Geológicas, leída el 22-02-2022
Collections