Publication:
Tafonomía de los yacimientos paleontológicos de Batallones-3 y Batallones-10 (Vallesiense Superior, Madrid, España)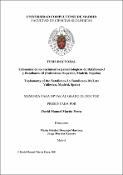 Files
Advisors (or tutors)
Editors
Publisher
Universidad Complutense de Madrid
Abstract
El complejo paleontológico del Cerro de los Batallones está situado a 30 km al sur de Madrid (España). El cerro contiene un total de nueve yacimientos paleontológicos vallesienses (Mioceno Superior), hospedados en unas cavidades con una apertura en la zona superior formadas por procesos de piping. Las partes inferiores de estas cavidades están dominadas por restos fósiles de carnívoros, mientras que las superiores contienen asociaciones más típicas, dominadas por restos de herbívoros. Batallones-3 corresponde a la parte inferior, dominada por carnívoros. En cambio, Batallones-10 corresponde a la parte superior de la cavidad, dominada por restos de herbívoros.Batallones-3 fue excavado entre 2001 y 2017. La excavación de Batallones-10 empezó en 2007 y sigue en proceso a día de hoy. Los yacimientos han sido excavados siguiendo protocolos estándar de excavación y documentando en detalle la extracción de restos. Los datos recogidos en campo incluyen, entre otros, la identificación taxonómica y anatómica del resto, los datos espaciales (coordenadas x, y y z) y la dirección y el buzamiento de restos alargados...
The Cerro de los Batallones (Batallones Butte) complex is located 30 km south of Madrid (Spain). The butte hosts a total of nine Vallesian (Late Miocene) palaeontological sites, found in cavities with an upper opening formed due to soil piping processes. The lower part of the cavities is overwhelmingly dominated by carnivoran remains, whereas the upper part hosts more common mammalian herbivore-dominated assemblages. Batallones-3 corresponds to the carnivoran-rich lower part of the structure. In turn, Batallones-10 corresponds to the herbivore-rich upper part of the cavity. Batallones-3 has been systematically excavated between the years 2001 and 2017, whereas excavations at Batallones-10 started in 2007 and are ongoing. Standard vertebrate excavation protocols have been followed in both sites, and the extraction of fossils has been exhaustively documented on-site. Data recovered includes taxonomical and anatomical identification, spatial data (x, y and z coordinates) and trend and plunge of elongated remains, among others...
Description
Tesis inédita de la Universidad Complutense de Madrid, Facultad de Ciencias Geológicas, leída el 17-12-2021
Collections