Publication:
Conflictos de competencia entre los Juzgados de Primera Instancia y los Juzgados de lo Mercantil.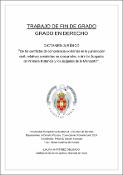 Authors
Advisors (or tutors)
Editors
Abstract
Desde la creación de los Juzgados de lo Mercantil por la Ley 8/2003, de 7 de julio, para la Reforma Concursal muchos han sido los conflictos de competencia existentes entre los Juzgados de Primera Instancia y los Juzgados de lo Mercantil, ambos pertenecientes al mismo orden jurisdiccional civil. Dichos conflictos, tanto en su vertiente de derecho procesal como en la de derecho material, han sido ampliamente debatidos por la jurisprudencia y la doctrina, tratando de dar una solución coherente a derecho. En el presente dictamen trata de recogerse de manera práctica y sistemática tales conflictos, realizando un estudio de la jurisprudencia recaída al respecto así como de la doctrina que se ha detenido en su estudio, aportando la solución más conveniente conforme a la voluntad del legislador, y a la realidad económica y social de la época en la que nos encontramos.
From the creation of Mercantile Courts by the Law 8/2003, July seventh, about the Reform of the Insolvency Law, there have been so many conflicts of jurisdiction between Trial Courts and Mercantile Courts, both of them belonging at the same jurisdictional, the civil one. Those conflicts, both in its procedural law and its substantive law, have been widely debated by jurisprudence and doctrine, trying to provide the most suitable solution according Law. In this dictum is tried to collect such conflict from practice and systematic way, doing a research about the jurisprudence issued about, as well as the doctrine that has stopped in its research. It's also tried to provide with this dictum a convenient solution according to the legislature's intention and considering the economic and social era we are living right now.