Publication:
Campus UNIZAR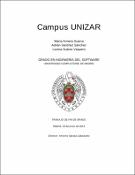 Files
Advisors (or tutors)
Editors
Abstract
El proyecto desarrollado a lo largo del curso académico consiste en una suite de aplicaciones que funciona como Campus Virtual. Consiste en una parte Web a través de la cual profesores y Administrador pueden realizar toda la parte de gestión de profesores, alumnos, actividades públicas y privadas, alertas, etc… Y por otro lado una app Android, que es la herramienta utilizada por los alumnos para estar al tanto de toda la información que los profesores gestionan a través de la página web. Además los alumnos tienen la posibilidad de llevar un contador de créditos cumplidos, que le avisará cuando se haya inscrito en un máximo de créditos definido por él mismo.
The project developed throughout the academic year, it's based on a suit of apps that work as a virtual campus. The project consists on a section of a website that allows admins and professors to control many activities such as professors management, students management, public and private activities, alerts, etc. On the other hand, the project consists on an Android App, a tool used by the students to be in contact with all the information that professor control through the website. Moreover, students have the possibility of using a counter of finished credits, which is going to make them know if the maximum number of credits have been reached.
Description
Trabajo de Fin de Grado en Ingeniería del Software (Universidad Complutense, Facultad de Informática, curso 2013/2014)