Publication:
Epidemiología molecular de mycobacterium bovis y mycobacterium caprae en España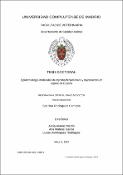 Files
Authors
Advisors (or tutors)
Editors
Publisher
Universidad Complutense de Madrid, Servicio de Publicaciones
Abstract
La erradicación de la tuberculosis bovina es una importante meta a nivel europeo y los Estados Miembro de la UE son responsables del diseño y de la ejecución de programas nacionales de erradicación. M. bovis y M. caprae son los agentes causantes de la tuberculosis en animales en España y no solo afectan al ganado vacuno y caprino, sino a un amplio abanico de especies animales y a los humanos. Para mejorar la campaña nacional de erradicación es necesaria una mejor comprensión de la epidemiología de estos patógenos. En España se reconoce la importancia tanto de la tuberculosis bovina como caprina, y el papel de la fauna salvaje como reservorio de la enfermedad se considera crucial para el éxito del programa de erradicación. Desde la implementación de técnicas de tipificación molecular la epidemiología molecular se ha convertido a nivel mundial en uno de los pilares de los programas de erradicación contribuyendo al mejor entendimiento y vigilancia de la enfermedad. El objetivo global de la presente tesis doctoral es la aplicación de técnicas de tipificación molecular a nivel nacional con el fin de evaluar la situación epidemiológica en España en el contexto europeo. Por este motivo se han abordado varios objetivos presentados de manera independiente en los siguientes capítulos: Capítulo I: Demografía molecular de Mycobacterium bovis y Mycobacterium caprae en España Capítulo II: La tipificación molecular como herramienta para trazar brotes causados por Mycobacterium bovis Capítulo III: La base de datos nacional española de tuberculosis en animales - mycoDB.es Capítulo IV: La filogenia de Mycobacterium bovis en la Península Ibérica... [ABSTRACT] The eradication of bovine tuberculosis is indispensable due to its negative impact on animal health and welfare, and national as well as international trade. Moreover, the infection threatens endangered animal species and humans. Mycobacterium (M.) bovis and M. caprae are the main causative agents of animal tuberculosis in Spain. Although the cattle herd prevalence has been drastically reduced in the last decade (1.15%, 2010), bovine tuberculosis remains a problem. The use of typing techniques contributes to a better control and understanding of the molecular epidemiology of the disease and thus backs up the national eradication programme. The present thesis is structured in four independent chapter. In the first three chapters, the two molecular standard techniques direct variable spacer oligonucleotide typing (DVRspoligotyping) and mycobacterial interspersed repetitive unit-variable number tandem repeat (MIRU-VNTR) were applied to study the strain diversity, geographical distribution as well as the implication of wildlife in Spain...
Description
Tesis inédita de la Universidad Complutense de Madrid, Facultad de Veterinaria, Departamento de Sanidad Animal, leída el 09/03/2012
Collections