Publication:
La implementación de la política de igualdad de género en la cooperación internacional de la Unión Europea en Túnez 2011 - 2020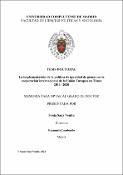 Files
Authors
Advisors (or tutors)
Editors
Publisher
Universidad Complutense de Madrid
Abstract
Esta tesis explora la implementación de la política de igualdad de género de la cooperación internacional de la Unión Europea (UE) en Túnez, a partir de la Primavera Árabe en enero de 2011hasta 2020. Este periodo de tiempo no solo corresponde a un periodo histórico para Túnez -de transición política hacia una mayor democratización- sino que coincide con la finalización de la implementación de los dos Gender Action Plans (Planes de acción de género) de la UE desde 2010hasta 2020 lo que implica una transformación institucional. El año 2011 marca un hito histórico en la trayectoria del país. A partir de esta fecha, Túnez entra en un ciclo de transformaciones políticas y sociales, como demuestran la aprobación de la nueva Constitución de 2014, la elevación de las reservas de la CEDAW en 2017 y la aprobación de la Ley Integral sobre las violencias de género (Ley 58/2017). A partir de esta fecha (2011), la UE ofrece una respuesta sin igual al país tunecino, doblando su presupuesto para la cooperación internacional en el período de 2011 a 20131. Así mismo, dentro del período de estudio seleccionado(2011-2020) la UE implementa dos Gender Action Plans que establecen su estrategia de igualdad de género en la acción exterior y ponen a prueba su rol como líder mundial contra las desigualdades de género. El proceso de implementación de la política de igualdad de género a través del gender mainstreaming y las acciones positivas dictadas por el GAP II, donde diversos actores con diferentes intereses intervienen, se entremezclan en un contexto caracterizado por la inestabilidad política y social del país (Túnez) y con las resistencias personales e institucionales de la Comisión Europea en plena transformación institucional. Estas son las razones principales que justifican el interés de estudiar la implementación de la política de igualdad de género en la cooperación internacional de la UE, en el caso específico -Túnez- y en el periodo seleccionado (2011-2020)...
This thesis explores the implementation of the European Union's (EU) international cooperation gender equality policy in Tunisia, from the Arab Spring in January 2011 to 2020. This timeframe coincides not only with a historic period for Tunisia of political transition toward greater democratization, but also with the time in which the EU completed its two Gender Action Plans from 2010 to 2020, which implied an institutional transformation.2011 marked a historic milestone in the country's development. From then on, Tunisia entered a cycle of political and social changes, as evidenced by the approval of the new Constitution in 2014, the withdrawal of reservations to the CEDAW in 2017, and approval of the Comprehensive Lawon Gender Violence (Law 58/2017). The EU, for its part, delivered an unprecedented response to the country, doubling its aid budget for the period 2011 to 2013.2 Moreover, within the selected research period (2011-2020), the EU implemented two Gender Action Plans setting out its gendere quality strategy in international cooperation and testing its role as a global leader against gender inequalities. The implementation process of the gender equality policy took place in a context of political and social instability in Tunisia and of personal and institutional resistance within the European Commission itself, which was experiencing a full institutional transformation. These are the main reasons for the interest in studying the implementation of the EU's gender equality policy in the particular case of Tunisia and in the selected period (2011-2020)...
Description
Tesis inédita de la Universidad Complutense de Madrid, Facultad de Ciencias Políticas y Sociología, leída el 10-02-2022
Collections