Publication:
Padres víctimas de abuso por parte de sus hijos: características descriptivas, factores de riesgo y propuesta de un programa de intervención psicológica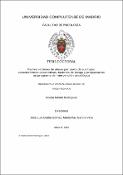 Files
Authors
Advisors (or tutors)
Editors
Publisher
Universidad Complutense de Madrid
Abstract
El presente trabajo trata de profundizar en el conocimiento de la violencia ascendente o filio-parental a través del estudio de las variables relacionadas con los padres y madres. Además este estudio tiene como objetivo dotar de apoyo empírico a un programa de intervención psicológica específico en el campo de la violencia ascendente presentado en este trabajo. Así pues y de forma más concreta este trabajo trata, en un primer momento, de valorar las características descriptivas de los progenitores víctimas de abusos por parte de sus hijos, tomando para ello en consideración diferentes variables sociodemográficas y clínicas recogidas tanto con los padres como con las madres. Por otra parte, se explora la prevalencia de las agresiones de las que los padres y madres son víctimas, pero también las agresiones que éstos perpetran hacia sus hijos adolescentes. Todo ello con el fin de valorar la reciprocidad o la existencia de diferencias estadísticamente significativas entre la victimización y la perpetración de las agresiones presentes en esta forma de violencia intrafamiliar. Por último, se presentan diferentes modelos de riesgo de la victimización de los padres y madres (atendiendo al género de los mismos) en función de los grupos de variables contempladas en este estudio, para pasar en último término a desarrollar un modelo general de riesgo de la victimización de los progenitores. [ABSTRACT]This study focused on the necessity to improve the understanding of violence towards parent through the analysis of variables related to parents for the purpose of providing empirical support to a specific psychological intervention program presented in this thesis. For that, different sociodemographic and clinical variables of parents abused by their children were evaluated. Furthermore, it had been explored the prevalence of parents victimization and the aggression perpetrated against their children, in order to assess the reciprocity or the existence of statistically significant differences between victimization and perpetration of aggression present in this form of domestic violence. Finally, were presented different models of risk of victimization of parents according to the groups of variables included in this study to finally develop a general model of risk victimization of the parents.
Description
Tesis inédita de la Universidad Complutense de Madrid, Facultad de Psicología, leída el 08-03-2013
Collections