Publication:
La revista la Hormiga de Oro : análisis de contenido y estudio documental del fondo fotográfico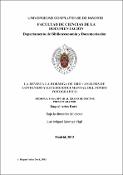 Authors
Advisors (or tutors)
Editors
Publisher
Universidad Complutense de Madrid
Abstract
Es objeto de este trabajo realizar un estudio de la revista católica y carlista La Hormiga de Oro (1884-1936) y el análisis documental de su fondo fotográfico inédito hasta la fecha, localizado en la Reial Acadèmia Catalana de Belles Arts de San Jordi en Barcelona. Se analiza el desarrollo de la revista ilustrada desde los orígenes, su estructura, el equipo de redacción y los profesionales que colaboraron en ella, configurado índices de articulistas, fotógrafos y dibujantes, así como el proyecto cultural de la gran empresa que fue La Hormiga de Oro, compuesta por la revista, la librería y la imprenta. Se analiza también la vida y obra de su fundador Luis María de Llauder. El análisis completo del fondo documental y del archivo fotográfico, las clasificaciones originales y las características de las fotografías, tanto formales como de contenido, constituyen también una parte esencial de este estudio. Se analiza la documentación localizada, estructurándola y clasificándola para facilitar su acceso y estudio, y se aportan datos sobre documentos fotográficos inéditos, profesionales de la fotografía, reporteros gráficos, y acontecimientos históricos recogidos en las fotos catalogadas. Por último se incluye en esta tesis el catálogo de las fotografías conservadas en el apartado biografías, que suman un total de 7377 originales. At the end of the 19th century, a radical change occurred in the illustrated press after the first A4 format magazines were created following the German model. It was in this context where La Hormiga de Oro, one of the longest running magazines, was founded, coinciding with weekly publications as renowned as La Ilustración Española y Americana, La Esfera, Blanco y Negro, Nuevo Mondo, Mundo Gráfico, Crónica y Estampa, all of them of an outstanding quality. It is outstanding that all other cited magazines were studied, to a greater or lesser extent, whereas there is barely any work about La Hormiga de Oro. The illustrated magazine La Hormiga de Oro was conceived by Luís María de Llauder in 1884 with the aim of achieving a catholic publication capable of competing with those of its time. As a catholic magazine, it was related to Church activities (conferences, events, local religious festivities, official visits, designation/nominations, charitable organizations), although its pretension was much more open, as it postulated itself as an enjoyable weekly journal intended for the general public. It was published from 12th January 1884 to 16th July 1936, and included great professionals, both in its staff as among its contributors. Since its inception it was published in Barcelona and distributed in the whole of Spain, Portugal, America and Philippines. The entrepreneurial project was completed with the creation of the bookshop La Homage de Oro, opened in 1885, and with the print house with the same name, opened in 1887, both of them in Barcelona. For five decades, La Hormiga de Oro magazine was the Carlism and Catholicism representative in Spain. From the publishing perspective, it was one of the first magazines that considered the need to include graphical material among its pages, to divulge artwork among the larger public, and to draw attention to the magazine's image...
Description
Tesis inédita de la Universidad Complutense de Madrid, Facultad de Ciencias de la Documentación, Departamento de Biblioteconomía y Documentación, leída el 24-06-2013
Collections