Publication:
De la Identidad a la reputación : creación de un nuevo modelo de gestión de marca a través del talento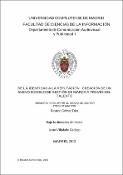 Files
Authors
Advisors (or tutors)
Editors
Publisher
Universidad Complutense de Madrid
Abstract
La premisa, la hipótesis inicial (HI) sobre la que se asienta la presente tesis doctoral es la siguiente: el talento es el principal factor -y con él la identidad y la cultura- que mejor explica, hoy en día, la reputación de una marca, es decir, la valoración que hacen de ella sus grupos de interés, resultado de la experiencia que esta genera y del ejercicio de cotejar la distancia que hay entre lo que dice y lo que hace, en definitiva, de su grado de coherencia. Pero dicha identidad, dicho ADN -que luego deviene en cultura a lo largo del tiempo-, expresado a través del corpus de valores o credo que sustentará después los comportamientos de esa marca -esas experiencias que genere-, tiene en el talento -profesionales, empleados, colaboradores, trabajadores o incluso estudiantes- al primer y principal 'stakeholder', aquel que mejor conoce la realidad interna y percibe la identidad en su máxima expresión y, además, aquel que, posteriormente, habrá de trasladarlo, en forma de servicio, innovación u opinión al resto de grupos de interés, a los stakeholders externos. Construir un nuevo modelo de gestión de marca -entendido como cualquier tipo de experiencia, sea esta empresarial, comercial, institucional, territorial, profesional, personal, cultural o social- basado en el talento, que tome a este como su principal stakeholder a partir del cual construya el resto del modelo -siguiendo unas mismas dimensiones y atributos, pero adaptando luego, lógicamente, las diferentes variables que las componen-, es la mejor forma de definir un prototipo que logre la coherencia y la consistencia entre lo que se dice y lo que se hace, porque lo que se dice es vivido y entregado por quienes, finalmente, lo hacen... The premise, the main hypothesis in which this doctoral dissertation lies, goes as follows: Talent is today the critical element –together with Identity and Culture– that better explains, nowadays, a Brand Reputation, that is, the assessment made by its stakeholders as a consequence of the experience that it creates, and the collation of the existing gap between words and deeds, ultimately, its level of coherence. But to this Identity, this DNA –which afterwards evolves into Culture throughout time-, which is expressed via the corpus of Values or the Creed that will eventually support Brand behaviours –the experiences that are produced–, Talent – meaning professionals in the sense of employees, contributors, workers or even students– comes the first, and it is the main interest group, the one that better knows the internal reality and perceives Identity in its greatest expression, and, in addition, the one that, subsequently, will be responsible for conveying it, in the form of Service, Innovation or Opinion, to the rest of stakeholders, the external ones. Building a New Brand Management Model –understood as any kind of experience, being this a business, commercial, institutional, territorial, professional, personal, cultural or social one– based upon Talent, that utilises it as its main stakeholder from which building the rest of the model –using the same dimensions and attributes, but after logically adapting the different variables that is made off–,is the best way of defining a prototype that reaches coherence and consistency between what it is said and what it is done, because what it is said is lived and delivered by who, eventually, does it...
Description
Tesis inédita de la Universidad Complutense de Madrid, Facultad de Ciencias de la Información, Departamento de Comunicación Audiovisual y Publicidad I, leída el 01-07-2013
Collections