Publication:
The analysis of verbal behavior and teaching different verbal operants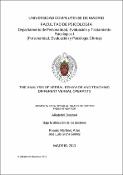 Files
Authors
Advisors (or tutors)
Editors
Publisher
Universidad Complutense de Madrid
Abstract
El objetivo de los estudios presentados en esta tesis doctoral es demostrar la eficacia de procedimientos de enseñanza específicos derivados de la ciencia del Análisis Aplicado de la Conducta en la enseñanza del lenguaje y de ilustrar algunas aplicaciones prácticas del análisis de la conducta verbal tal como fue descrito por Skinner (1957) aplicado con diferentes poblaciones.Más en detalle, en el primer artículo que se incluye, hay una reflexión conceptual sobre el análisis de la conducta verbal de Skinner (1957) y otros autores y se propone una taxonomía integral de las operantes verbales, que incluye una mención a los canales de aprendizaje y las operantes de identidad y no-identidad. En los artículos de investigación, se describen los procedimientos elegidos para enseñar algunas de las operantes verbales básicas (los tactos y las intraverbales) y su eficacia se evalúa con poblaciones diferentes, adultos de desarrollo típico y un adulto con afasia global. Los procedimientos de enseñanza usados en estos estudios consistieron en el uso de ayudas textuales y ecoicas e incluyeron la presentación de estímulos antecedentes visuales y auditivos. A la hora de evaluar la eficacia de los procedimientos de enseñanza, los fenómenos de emergencia se tuvieron en cuenta y se formularon hipótesis con respecto a las relaciones enseñadas y los procedimientos de enseñanza que produjeron más respuestas emergentes. [ABSTRACT] The aim of the studies presented in this doctoral dissertation is to demonstrate the efficacy of specific teaching procedures derived from the science of Applied Behavior Analysis into the teaching of language and to illustrate some practical applications of the analysis of verbal behavior as this was described by Skinner (1957) and with different populations. More in detail, in the first article included, there is a conceptual reflexion on Skinner's (1957) and other authors' analysis of verbal behavior and a unifying taxonomy of verbal operants is proposed, including a referral to learning channels and identity and non-identity operants. In the research articles, different procedures to teach some of the basic verbal operants (tacts and intraverbals) are described and their efficacy is assessed with different populations, typically developing adults and an adult with global aphasia. The teaching procedures used in these studies consisted of the delivery of textual and echoic prompts and involved the presentation of visual and auditory antecedent stimuli. When assessing the efficacy of the teaching procedures, emergence phenomena were taken into account and hypotheses were formulated regarding the trained relations and teaching procedures that produced more emergent responses.
Description
Tesis inédita de la Universidad Complutense de Madrid, Facultad de Psicología, Departamento de Personalidad, Evaluación y Tratamiento Psicológico I (Personalidad, Evaluación y Psicología Clínica), leída el 22-07-2013. Tesis retirada por deseo de la autora el 08/01/2014
Collections