Publication:
Scaffolds biohíbridos de fibroína de seda y ácido hialurónico para la neuroprotección y reparación de la retina y del nervio óptico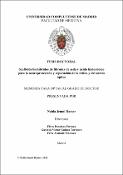 Files
Authors
Advisors (or tutors)
Editors
Publisher
Universidad Complutense de Madrid
Abstract
La visión es el sentido más importante para los seres humanos. El 80% de la información sensorial que percibimos de nuestro entorno entra por los ojos, lo que nos permite apreciar toda la belleza del mundo exterior, comunicarnos y adquirir conocimientos. La vía visual está formada por un sistema complejo de neuronas interconectadas, comenzando con la retina en el globo ocular, pasando por el nervio óptico (ON) hasta la estación superior del procesamiento visual, la corteza visual. Toda la información sensorial es preprocesada por la retina, desencadenando pulsos eléctricos que viajan por la vía visual hasta la corteza, donde tiene lugar la percepción visual. Dada la importancia de la visión para el ser humano, durante varios milenios grandes filósofos, médicos e investigadores dedicaron todos sus esfuerzos a comprender el funcionamiento de este complejo sistema y buscar terapias para sus patologías. La retina es una estructura sensible a la luz, esencial para la visión. Brevemente, es una estructura en capas, formada por una red de neuronas; fotorreceptores, interneuronas y las células ganglionares de la retina (RGC). La fototransducción tiene lugar en los fotorreceptores, células polarizadas y altamente especializadas que convierten la luz en señales eléctricas...
Vision is the most important sense for human beings. 80% of the sensory information that we perceive from our surroundings enters through the eyes, allowing us to appreciate all the outside world beauty, communicate and acquire knowledge. The visual pathway is made up of a complex system of interconnected neurons, beginning with the retina in the eyeball, passing through the optic nerve up to the highest visual processing center, the visual cortex. All sensory information is preprocessed by the retina, triggering electrical pulses that travel through the visual pathway until they reach the cortex, where visual perception occurs. Given the importance of vision for humans, for several millennia great philosophers, doctors and researchers dedicated all their efforts to understanding the functioning of this complex system and seeking therapies to its pathologies.The retina is a light-sensitive structure essential for vision. Briefly, it is a layered structure, formed by a network of neurons, the photoreceptors, interneurons, and RGC. Phototransduction occurs at the photoreceptors, highly specialized and polarized cells that convert light into electrical signals...
Description
Tesis inédita de la Universidad Complutense de Madrid, Facultad de Medicina, leída el 10-05-2022
Collections