Publication:
La resignificación del contador de historias en la sociedad posmoderna una investigación sobre narradores orales en el ámbito de Madrid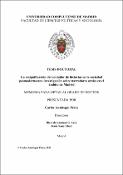 Files
Authors
Advisors (or tutors)
Editors
Publisher
Universidad Complutense de Madrid
Abstract
La Antropología Social y Cultural ha prestado gran atención a los cuentos, relatos, historias, narraciones… Estos "artefactos" son un bien cultural intangible y son analizables detenidamente porque podemos disponer de ellos en forma documental. Sobre lo que sucede cuando se cuentan historias en vivo, por ser un evento fugaz, los estudios disponibles son razonablemente menos. Sobre la figura del narrador de historias y su relación con esta práctica de narrar cuentos con público presente, los estudios son sensiblemente pocos. No me consta ningún estudio doctoral sobre los modernos narradores profesionales de historias en este siglo XXI desde las Ciencias Sociales, su relación con su profesión y los aspectos artísticos que la rodean (repertorio, proceso creativo, puesta en escena, performance…). Es por ello pertinente esta investigación. Mi objetivo general es analizar los cambios y transformaciones que se dan en torno a la emergencia de los modernos narradores de historias como profesionales escénicos. Mis objetivos específicos son: analizar el proceso de emergencia del moderno narrador escénico de historias; analizar si la moderna narración escénica de historias resignifica las historias que se cuentan; situar la moderna narración oral de historias en el conjunto de manifestaciones de oralidad escénica contemporáneas; analizar si la moderna narración escénica de historias puede ser considerada como género escénico artístico y sus profesionales como artistas; identificar si se manifiestan, y cómo lo hacen, aspectos rituales en las performances de narración oral de historias...
Social and Cultural Anthropology has paid great attention to tales, stories, legends, myths... These "artifacts" are an intangible cultural asset, and they can be thoroughly analyzed as we can get them in documentary form. On what happens when stories are told live, as it is a fleeting event, available studies are reasonably fewer. About the professional storyteller figure and his relationship with the storytelling practice in front of a present audience, studies are remarkably few. I am not aware of any doctoral study on modern professional storytellers in this 21st century from the Social Sciences point of view, their relationship with their profession and the artistic aspects that surround it (repertoire, creative process, staging, performance...). That is why this research is relevant. My general objective is to analyze the changes and transformations that occur around the modern storytellers emergence as stage professionals. My specific objectives are: to analyze the emergence process of the modern professional storyteller; to analyze whether modern professional storytelling resignifies the stories told; to place modern professional storytelling within the set of contemporary manifestations of scenic orality; analyze whether modern scenic storytelling can be considered as an artistic performing genre and its professionals as artists; to identify if ritual aspect are manifested in storytelling performances and how they appear...
Description
Tesis inédita de la Universidad Complutense de Madrid, Facultad de Ciencias Políticas y Sociología, leída el 10-03-2022
Collections