Publication:
Redes comunitarias: prácticas artísticas colaborativas, movimientos sociales y salud. Experiencias en Puente de Vallecas, Madrid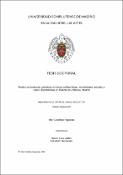 Files
Authors
Advisors (or tutors)
Editors
Publisher
Universidad Complutense de Madrid
Abstract
La siguiente tesis doctoral, bajo el título Redes comunitarias: Prácticas artísticas colaborativas, movimientos sociales y salud. Experiencias en Puente de Vallecas, Madrid. recoge un proceso de investigación acerca de unos modos de hacer que situamos a caballo entre las prácticas artísticas, los movimientos sociales y el trabajo comunitario, y que se articulan desde la colaboración. Para ello, se propone el acercamiento a los mismos desde la experiencia situada, y se recurre a una serie de propuestas desarrolladas en el distrito madrileño de Puente de Vallecas.Tal investigación pretende primeramente indagar y trazar sinergias entre los tres ámbitos señalados, para después analizar las potencialidades de dichos modos de hacer como generadores de transformación social. En este sentido, desde el comienzo de la misma se propone ligar este concepto a los cambios cotidianos y al bienestar de las personas y de las comunidades; y además se vinculan dichas potencialidades con la capacidad de estos modos de hacer para generar vínculos y redes en un territorio abarcable como lo es el de un barrio...
The following doctoral thesis, called Community Networks: Collaborative Artistic Practices, Social Movements and Health. Experiences in Puente de Vallecas, Madrid. gathers a research process about ways of doing that we place between artistic practices, social movements and community work, and which are articulated from collaboration. To this purpose, we propose to approach them from the situated experience, and we resort to a number of proposals developed in the district of Puente de Vallecas in Madrid.This research intends firstly to investigate and trace synergies between the three areas mentioned above, in order to later analyze the potential of these ways of doing things as generators of social transformation. In this regard, from the beginning of the research it is proposed to link this concept to daily changes and to the wellbeing of people and communities; and furthermore, these potentialities are linked to the capacity of these ways of doing to generate links and networks in an encompassing territory such a neighborhood...
Description
Tesis inédita de la Universidad Complutense de Madrid, Facultad de Bellas Artes, leída el 05/10/2022
Collections