Publication:
Declive del método de atribución en la determinación por el árbitro del Derecho aplicable al fondo de la controversia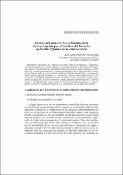 Advisors (or tutors)
Editors
Publisher
Centro de Arbitraje, Mediación y Conciliación
Abstract
En el arbitraje comercial internacional la confrontación entre la ley del foro y la ley extranjera carece totalmente de significado. La diversidad normativa que se produce en determinados sectores del Derecho internacional privado es mucho menor cuando se trata de dar soluciones jurídicas prácticas aplicables a los problemas sometidos a los árbitros y la razón deriva de la primacía del Derecho espontáneo en la regulación de las transacciones privadas internacionales que suele dominar el contenido de la denominada "autonomía material" en los contratos. Ello reduce las posibilidades de que los árbitros tengan que ocuparse de las soluciones propias del método de atribución. Las legislaciones nacionales recientes permiten al árbitro la localización de la ley sustantiva a la controversia sin necesidad de poner en marcha el mecanismo conflictual. Con independencia de la aplicación de la lex mercatoria a título principal cuando se registra una "elección negativa" por las partes del Derecho aplicable, y de la cada vez más estrecha "cohabitación" con el orden jurídico estatal, la llamada a la lex mercatoria a título principal y exclusivo manifiesta evidentes dosis de imparcialidad y de neutralidad cuyas bondades se proyectan en una serie de supuestos: a) cuando las partes no se ponen de acuerdo en torno a la ley estatal aplicable al contrato; b) para la validez y a la eficacia de una cláusula compromisoria pese a existir individualizada una lex contractus estatal; c) en los contratos multi–partes vinculados a diversos Estados y, por tanto, a diferentes legislaciones y d) para evitar supuestos en que la "parte fuerte" trate de imponer la ley del Estado donde está establecida. In International commercial arbitration the confrontation lex fori –foreign law has absolutely no sense. The relevance regulatory diversity in certain private international law sectors is minor when it comes to find juridical responses to the problems submitted for arbiters consideration. This is due to the primacy of the spontaneous rules in the regulation of private international transactions, where "material autonomy" in contracts dominates.Hence, the possibility of arbiters having to deal with the attributive method is reduced. Recent national regulations allow arbiters to find the applicable substantive law without resorting to the conflicts methodology. Beyond the application of the lex mercatoria when parties make a "negative choice" of the applicable law, and the progressively arrower "cohabitation" with the national laws, resorting to the so called lex mercatoria as the principal and exclusive law shows a high and evident degree of impartiality and neutrality, whose benefits can be perceived in a number of cases: a) when parties do not agree on the national law applicable to the contract; b) for the validity and efficacy of an arbitral agreement despite the existence of an individualized national lex contractus ; c) in multi-parties contracts linked to a number of States and, therefore, to different legislations; and d) to avoid cases in which the "strong part" tries to impose the law of the State where it is established.
Collections