Publication:
Evolucionismo y sentido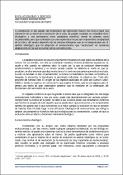 Advisors (or tutors)
Editors
Abstract
La celebración del bicentenario del nacimiento Darwin nos invita a hacer una valoración de su teoría de la evolución de la vida. Se pueden constatar un indudable éxito divulgativo y una persistencia como paradigma científico, donde se presenta como incuestionable, pero que contrastan con una imprevista e incuso aún imprevisible complejidad de la vida y del propio desarrollo de las ciencias biológicas que se ve obstaculizado por el sentido ideológico que ha adquirido el evolucionismo que "evoluciona" en sucesivas adaptaciones en las que se ocultan serias contradicciones. ABSTRACT: The celebration of the bicentenary of Darwin's birth calls us to make an assessment of his theory of evolution of life. We can verify an undoubted success and persistence as informative scientific paradigm, which is presented as indisputable, but in contrast to an unforeseen and even unforeseeable incuse complexity of life, and developments in the biological sciences that is hampered by the ideological sense has acquired the evolution to "evolve" in successive adaptations that are hidden in serious contradictions.
Collections