Publication:
Botánica en los Horti Farnesiani del Palatino Romano, a inicios del Siglo XVII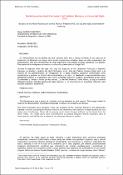 Authors
Advisors (or tutors)
Editors
Publisher
Biblioteca Histórica de la Universidad Complutense de Madrid
Abstract
El Renacimiento fue un período de total sintonía entre arte y ciencia, evidente en los casos de la Anatomía y la Botánica, con apoyo tácito en las ilustraciones artísticas; éstas no sólo enriquecieron las publicaciones, sino que contribuyeron de modo importante a los propios avances científicos y su difusión. Este poder de las imágenes se mantuvo e incluso fue potenciado en el siglo XVII. Durante la segunda mitad del siglo XVI, bajo los auspicios de los cardenales Ranuccio y Alejandro Farnesio, se diseñan y realizan los Horti Farnesiani en el área del Palatino romano. Estos Horti, a la manera de los planteamientos de villeggiature de la Edad Moderna, quedaron conformados como arquitecturas y jardines en función del esparcimiento y el retiro, no olvidando la representatividad pero atendiendo también a la Botánica. Aquí fueron cultivadas especies exóticas, procedentes de las Indias Occidentales y traídas a Roma por los jesuitas. La obra del botánico Tobías Aldino, ya bajo el cardenal Odoardo Farnesio, describe algunas de estas especies y se convertirá en un importante referente para estudios botánicos posteriores.[ABSTRACT] The Renaissance was a period of complete harmony between art and science. The images helped to improve the dissemination of scientific knowledge in subjects as Anatomy and Botany. The Horti Farnesiani were designed under the auspices of the cardinals Ranuccio and Alessandro Farnese. Pavillons and gardens devoted to leisure and retirement, with criterions of representation but also taking care of the Botany,. There, will be growing exotic plants, brought to Rome by the Jesuits from the West Indies. The Tobías Aldino work, commissioned by cardinal Odoardo Farnese, describes some of these species and will become a reference for subsequent botanical studies.
Collections