Publication:
Programa de Prevención de la Dependencia y Envejecimiento Activo: Un Modelo de Formación de Psicohabilidades en un entorno B-Learning.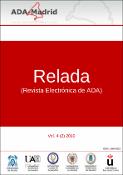 Advisors (or tutors)
Editors
Publisher
RELADA es la Revista Electrónica del Proyecto ADA-Madrid (Aula a Distancia Abierta de la Comunidad de Madrid, http://www.upm.es/adamadrid).
Abstract
Un estilo de vida vitalista o en su defecto los programas de envejecimiento activo, son las mejores herramientas para la prevención de la dependencia causada por el envejecimiento. Con la evolución del ciclo vital se agudizan las enfermedades no trasmisibles (ENT), que generan la dependencia. Es posible crear programas de prevención de la dependencia y el fomento del envejecimiento activo, a través de una formación en modalidad b-learning. La plataforma de formación Moodle, en sus versiones 1.9 y 2.0, ofrecen las herramientas de seguimiento y diagnóstico perfectas, para la trasmisión de conocimientos teóricos y la formación en psicohabilidades, cubriendo las necesidades de una formación en salud preventiva, fundamentado en las dimensiones de la salud integral, es decir en las 5 "eses": Salud Física, Salud Espiritual, Salud Psicológica, Salud Social y Salud Emocional.[ABSTRACT] Abstract: A vitalistic lifestyle or else active aging programs are the best tools for the prevention of dependency caused by aging. With the development life cycle are exacerbated non-communicable diseases (NCDs), which generate dependency. We can create programs to prevent dependency and promote healthy aging through training in b-learning mode. The Moodle learning platform in their versions 1.9 and 2.0, provide the diagnostic tools to monitor and perfect for the transmission of knowledge and training in psychosocial skills, meeting the needs of a preventive health education, based on the size of the comprehensive health, in the 5 "Hs" Physical Health, Spiritual Health, Psychological Health, Social Health and Emotional Health.
Citation
Casamayor, G. (2008). La formación on-line: una mirada integral sobre el e-learning, b-learning. Barcelona. Graó D.L. Fernández-Ballesteros, R. (2008). Colección Vivir con Vitalidad. Ediciones Pirámide. Guía de envejecimiento saludable: Información y consejos para la prevención de la dependencia. (2008). Funcació Agrupaciómutua y Universidad Autónoma de Barcelona. 1º edición. Barcelona. Guía I, II y III Saber vivir, prevenir la dependencia. (2007). Sociedad Española de Geriatría y Gerontología. 3ª edición. Madrid. Giro Miranda, J. (2006). Envejecimiento activo, envejecimiento en positivo. Logroño. Univ. de La Rioja. Moragas Moragas, R. (2007). Coordinador. Preparación de la dependencia. Preparación para la jubilación. Fundaciò Viure i Conviure. Barcelona. Rice, W. H. (2007). Using Moodle: teaching with the popular open source course management system. O'Reilly Media, Inc. Rice, W. H. (2008). Moodle 1.9: e-learning course development: a complete guide to successful learning using Moodle 1.9. Birmingham. Packt Publishing.
Collections