Publication:
New empirical fitting functions for the Lick/IDS indices using MILES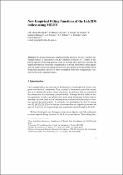 Advisors (or tutors)
Editors
Abstract
We are presenting new empirical fitting functions for the Lick/IDS line-strength indices as measured in MILES (Medium-resolution INT Library of Empirical Spectra). Following previous work in the field, these functions describe the empirical behaviour of the line-strength indices with the atmospheric stellar parameters (T_(eff), logɡ, [Fe/H]). In order to derive the fitting functions we have devised a new procedure which, being fully automatic, provides a better description of the line-strength index variations in the stellar parameter space.
Description
© Springer-Verlag Berlin Heidelberg 2010. Scientific Meeting of the Spanish-Astronomical-Society (SEA) (8th; 2008; Santander-SPAIN).
Collections