Publication:
In Vitro and In Vivo Evaluation of a Folate-Targeted Copolymeric Submicrohydrogel Based on N-Isopropylacrylamide as 5-Fluorouracil Delivery System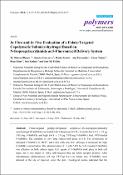 Advisors (or tutors)
Editors
Abstract
Folate-targeted poly[(p-nitrophenyl acrylate)-co-(N-isopropylacrylamide)] nanohydrogel (F-SubMG) was loaded with 5-fluorouracil (5-FU) to obtain low (16.3 ± 1.9 μg 5-FU/mg F-SubMG) and high (46.8 ± 3.8 μg 5-FU/mg F-SubMG) load 5-FU-loaded F-SubMGs. The complete in vitro drug release took place in 8 h. The cytotoxicity of unloaded F-SubMGs in MCF7 and HeLa cells was low; although it increased for high F-SubMG concentration. The administration of 10 μM 5-FU by 5-FU-loaded F-SubMGs was effective on both cellular types. Cell uptake of F-SubMGs took place in both cell types, but it was higher in HeLa cells because they are folate receptor positive. After subcutaneous administration (28 mg 5-FU/kg b.w.) in Wistar rats, F-SubMGs were detected at the site of injection under the skin. Histological studies indicated that the F-SubMGs were surrounded by connective tissue, without any signs of rejections, even 60 days after injection. Pharmacokinetic study showed an increase in MRT (mean residence time) of 5-FU when the drug was administered by drug-loaded F-SubMGs.
Collections