Publication:
Espacios de competición partidista de la izquierda y la derecha parlamentaria en América Latina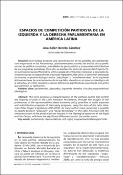 Advisors (or tutors)
Editors
Publisher
Universidade de Santiago de Compostela
Abstract
Este trabajo propone una caracterización de los partidos con representación mayoritaria en los Parlamentos Latinoamericanos a través del análisis de sus preferencias de política económica, prioridades de gasto público y propuestas redistributivas de sus programas partidistas. Para ello, se analizan los datos de opinión del Proyecto Élites Latinoamericanas (PELA) de la última oleada de entrevistas realizadas a diputados latinoamericanos correspondiente al periodo legislativo 2005-2010. Si como han destacado los autores, es posible distinguir entre "populistas" y "socialdemócratas" en la izquierda latinoamericana, la caracterización de los partidos ubicados en el espectro ideológico de la derecha y el centro revelará si existen diferencias significativas o puntos de encuentro que permitan su tipificación.
This work proposes a characterization of the political parties that control the majority of seats in the Latin American Parliaments, through the analysis of the preferences of the representatives about economic policy, priorities of public expenses and redistributive proposals of their party programs, using the data of the Latin American Elites Project (Legislature 2005-2010). As many authors have remarked, is possible to classify between "populism" and "social democracy" in the Latin American Left; the characterization of the political parties located in the ideological spectrum of the Right and the Centre, will show the significant differences and/or the similar points.
Collections