Publication:
El control organizacional en el siglo XXI: en busca del trabajador autodisciplinado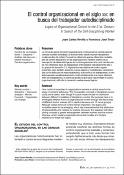 Advisors (or tutors)
Editors
Publisher
Centro de Investigaciones Sociológicas
Abstract
La forma de ejercer el control organizacional continúa siendo central para las ciencias sociales del trabajo. El acercamiento desde el poder disciplinario podría resultar útil, si bien Foucault no diferenció apenas diferentes modalidades de control disciplinario en las organizaciones. Nuestro objetivo es la descripción de diferentes lógicas de control organizacional a partir del discurso de muy diferentes tipos de trabajadores entrevistados individualmente (35) o en grupos de discusión (11). Algunas formas clásicas de control siguen presentes, pero también aparecen nuevas lógicas y modalidades, caracterizadas por la atribución de responsabilidad y autonomía a los trabajadores, si bien este supuesto autodisciplinamiento oculta simplemente una mayor distancia entre los trabajadores y la fuente de poder, lo que hace más invisible el control organizacional y dificulta la oposición a estas nuevas lógicas.
How control is exercised in organizations remains a central issue for the study of workers' behaviour. The Foucauldian concept of disciplinary power could prove useful, even though Foucault made virtually no distinction between different modalities of disciplinary control. Our purpose here is to investigate different forms of organizational control through the discourses of different kind of workers (35 in-depth interviews and 11 focus groups). Although classic forms of control remain important, new logics and modalities seem to be emerging, which are characterized by the attribution of responsibility and initiative to workers. However, this apparent self-disciplining conceals a greater estrangement between workers and the source of power, which renders organizational control invisible and hinders resistance to these new logics.
Collections