Publication:
Proposals for the generation of angular momentum from non-uniformly polarized beams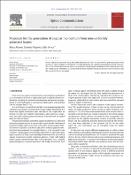 Advisors (or tutors)
Editors
Abstract
Several optical arrangements using non-uniformly polarized fields are proposed for generating beams with spin and/or orbital angular momentum. By choosing adequately the input beam polarization and the characteristics of the different proposed set-ups we can control the overall angular momentum of the output beam at will. The orbital angular momentum is analyzed with the beam moments theory and the spin term is evaluated using the averaged s(3) Stokes parameter.
Description
© 2011 Elsevier B.V. This work has been supported by the Ministerio de Ciencia e Innovación of Spain, project FIS2010-17543.
Citation
[1] T. Kuga, Y. Torii, N. Shiokawa, T. Hirano, Physical Review Letters 78 (1997) 4713. [2] L. Paterson, M.P. MacDonald, J. Arlt, W. Sibbett, P.E. Bryant, K. Dholakia, Science 292 (2001) 912. [3] G. Gibson, J. Courtial, M.J. Padgett, M. Vasnetsov, V. Pas'ko, S.M. Barnett, S. Franke-Arnold, Optics Express 12 (2004) 5448. [4] C. Rotschild, S. Zommer, S. Moed, O. Hershcovit, S.G. Lipson, Applied Optics 43 (2004) 2397. [5] G. Molina-Terriza, J.P. Torres, L. Torner, Nature Physics 3 (2007) 305. [6] S. Franke-Arnold, L. Allen, M. Padgett, Laser and Photonics Review 2 (2008) 299. [7] L. Marrucci, C. Manzo, D. Paparo, Physical Review Letters 96 (2006) 163905. [8] L.Marrucci, E. Karimi, S. Slussarenko, B. Piccirillo, E. Santamato, E. Nagali, F. Sciarrino, Journal of Optics 13 (2011) 064001. [9] Y. Zhao, et al., Physical Review Letters 99 (2007) 073901. [10] I. Mokhun, R. Brandel, Ju. Viktorovskaya, Ukraine Journal of Physiological Optics 7 (2006) 63. [11] I. Mokhun, in: O.V. Angelsky (Ed.), Optical Correlation Techniques and Applications, Chapter 1, SPIE Press, Bellingham, Washington, USA, 2007, p. 1. [12] I. Mokhun, R. Khrobatin, Journal of Optics. A-Pure Applied Optics 10 (2008) 064015. [13] A. Bekshaev, M. Soskin, M. Vasnetsov, Paraxial Light Beams with Angular Momentum, Nova Science Publishers, New York, 2008. [14] S. Lavi, R. Prochaska, E. Keren, Applied Optics 27 (1988) 3696. [15] M.J. Bastiaans, Optik 82 (1989) 173. [16] A.E. Siegman, Physical Society Photo-Optics Institute 1224 (1990) 2. [17] J. Serna, R. Martínez-Herrero, P.M. Mejías, Journal of the Optical Society of America. A 8 (1991) 1094. [18] J. Serna, J.M. Movilla, Optics Letters 26 (2001) 405. [19] J. Serna, G. Piquero, Optics Communications 282 (2009) 1973. [20] R. Martínez-Herrero, P.M. Mejías, G. Piquero, Springer Series in Optical Sciences, 147, 2009, Berlin. [21] W.M. Lee, X.C. Yuan, K. Dholakia, Optics Communications 239 (2004) 129. [22] J. Leach, E. Yao, M.J. Padgett, New Journal of Physics 6 (2004) 71. [23] N.R. Heckenberg, R. McDuff, C.P. Smith, A.G. White, Optics Letters 17 (1992) 221. [24] M.W. Beijersbergen, R.P.C. Coerwinkel, M. Kristensen, J.P. Woerdman, Optics Communications 112 (1994) 321. [25] J.E. Curtis, B.A. Koss, D.G. Grier, Optics Communications 207 (2002) 169. [26] S.S.R. Oemrawsingh, J.A.W. vanHouwelingen, E.R. Eliel, J.P.Woerdman, E.J.K. Verstegen, J.G. Kloosterboer, G.W. 't Hooft, Applied Optics 43 (2004) 688. [27] A. Niv, G. Biener, V. Kleiner, E. Hasman, Optics Communications 251 (2005) 306. [28] V. Ramírez-Sánchez, G. Piquero, M. Santarsiero, Journal of Optics. A-Pure Applied Optics 11 (2009) 085708. [29] M. Stalder, M. Schadt, Optics Letters 21 (1996) 1948.
Collections