Publication:
Proyecto Nobody: Estudio de caso de una intervención artística en los espacios de Tabacalera y Matadero-Madrid. Project Nobody: Case study of an artistic intervention in Tabacalera and Matadero-Madrid spaces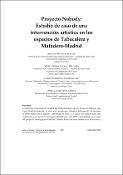 Advisors (or tutors)
Editors
Publisher
Grupo Arte, Arquitectura y Comunicación en la Ciudad Contemporánea
Abstract
La comunicación analiza las infraestructuras de un proyecto artístico, que con el título de Nobody, ha sido seleccionado por el festival InSonora VI. Se describe la intervención en el espacio Tabacalera en 2010, y el guión de trabajo para una residencia de espacios en Matadero-Madrid en el año 2011. Desarrollado en el seno del grupo de investigación Derivas Urbanas: Intervenciones artísticas en el territorio, intenta relacionar las acciones propiamente preformativas de campos como la danza, con las artes visuales, la música y la poesía desde una estrategia site-specific. The paper analyzes the infrastructures of an artistic project titled Nobody that has been selected for the InSonora VI festival. The project analyzes a spatial intervention at Tabacalera in 2010 and a residency of spaces in Matadero-Madrid in 2011. Developed amidst the investigation group Urban Drifts: artistic interventions in the territory, the project strives to relate the pre-formative actions of fields like dance with visual arts, music and poetry from a site-specific strategy.
Citation
ARNHEIM, R. (1998): El pensamiento visual. Paidós, Madrid. AUSTER, P. (2004): Pista de despegue: selección de poemas y ensayos, 1970-1979. Anagrama, Barcelona. CALVINO, I. (1993): Si una noche de invierno un viajero. Siruela, Madrid. COETZEE, J.M. (2003): En Medio de Ninguna Parte. Mondadori, Barcelona. COETZEE, J.M. (2004): Esperando a los Bárbaros. Mondadori, Barcelona. DICKINSON, E. (2012): El viento comenzó a mecer la Hierba. Nórdica Libros, Madrid. KAWABATA, Y. (2007): Primera nieve en el monte Fuji. Belacqua, Barcelona. PEREC, G. (1999): Especies de espacios. Montesinos, Barcelona. PONIATOWSKA, E. (2001): La piel del cielo. Santillana, Madrid. VV.AA. (2007): La forma que piensa. Tentativas en torno al cine-ensayo. Gobierno de Navarra Prensa Publicaciones, Pamplona. VV.AA. (2006): Mystère Marker. T&B editores, Madrid. ZAMBRANO, M. (1987): Hacia un saber sobre el alma. Alianza, Madrid. Acciones. Nobody Performance "Las Horas" Edificio Tabacalera Festival InSonora VI Madrid 2010 [En línea]. Disponible en vimeo.com/22858485 Nobody Matadero-Madrid 2011. Disponible en www.dailymotion.com/video/xv4e75_nbdy-matadero-2011_creation - .UKjLFoWZfZ9
Collections