Publication:
Diversidad funcional: sobre lo normal y lo patológico en torno a la condición social de la dis-capacidad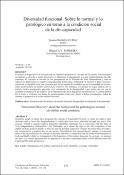 Advisors (or tutors)
Editors
Publisher
Universidad Complutense de Madrid
Abstract
El colectivo de personas con discapacidad en España ha propuesto el concepto de Diversidad Funcional para reivindicar su derecho a tomar decisiones y a abandonar la marginación a la que tradicionalmente ha sido sometido. El concepto se inscribe en los presupuestos de la Filosofía de Vida Independiente y trata se superar las definiciones en negativo (discapacidad, minusvalía), reclamando el derecho al pleno reconocimiento de su dignidad como una expresión más de las muchas diversidades que en la actualidad son reconocidas positivamente en nuestra convivencia colectiva. Sin embargo, el concepto no logra superar, por sí mismo, ciertos presupuestos asociados a la concepción de la discapacidad y que tienen que ver con la moderna normalización del cuerpo y de la salud derivados de la hegemonía del discurso de la ciencia médica. En el texto se proponen las líneas de argumentación crítica que, frente a dichos presupuestos, habrá de afrontar la perspectiva de la Diversidad Funcional.
Disability people in Spain have proposed the concept of Functional Diversity to claim the right to take decisions and to leave the marginalization to which they have been submitted through the years. This concept, created to surpass negative definitions (disability, handicap), has a connection with the ideas of Vida Independiente's (Independent Life) Philosophy, as it claims the right to the full recognition of the dignity of these group of people, as they are just one possible expression of many diversities that, nowadays, are recognized in a positive way in our society. Nevertheless, this concept doesn't manage to overcome some of the ideas linked to the concept of disability that have a connection with the modern normalization of body and health, which is a consequence of the hegemony of the medical discourse. In our essay, we propose the lines of a critical argument that, in opposition to the above mentioned ideas, will be affirmed from the Functional Diversity perspective.
Collections