Publication:
Professor Da Ruan, Distinguished Visitor at Complutense University, Madrid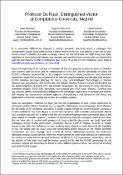 Advisors (or tutors)
Editors
Abstract
This short note is written as a contribution to the memory of Prof. Da Ruan. We shall try to reflect how he was entitled to stay two months (April-May 2011) as "Distinguisher Visitor" at Complutense University, Madrid, based upon his past collaborations without team, and pointing out some of the projects we jointly developed and launched during such a period. Beside the strictly scientific arguments towards his academic excellence, we want to stress his continuous support to explore new initiatives from a sincere and friendly collaboration.
Collections