Publication:
Publicación de la base de datos de las galaxias de la Exploración UCM en el Observatorio Virtual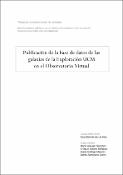 Authors
Advisors (or tutors)
Editors
Abstract
En este trabajo académicamente dirigido se ha abordado la creación de un servicio VO (Virtual Observatory) de la Exploración UCM de galaxias con formación estelar. Para llevar a cabo este objetivo se ha construido en primer lugar una base de datos utilizando como sistema gestor PostgreSQL, a continuaci¢n un interfaz web de consulta a dicha base de datos, y finalmente el servicio VO. Este servicio permite el acceso a una base de datos con una consulta a traves de la URL, y produce una respuesta esta ndar según los requisitos del Cone Search establecidos por IVOA (International Virtual Observatory Alliance). Para detallar algunas aplicaciones de la herramienta construida, se han proporcionado una serie de casos de uso. Para ello se ha trabajado con herramientas VO (Aladin, TOPCAT), con el servicio VO creado y con otros servicios VO disponibles. Con todo ello se ha ilustrado el potencial de una iniciativa como es el VO así como los beneficios que aporta a la comunidad científica la estandarizaci¢n de los datos, y un sistema de recuperación de los mismos sencillo y eficiente.[ABSTRACT]We present an academic directed work where we have developed a Virtual Observatory (VO) Resource of the UCM Survey, a catalog of near star-forming galaxies. In order to achieve this goal we have created a database using the PostgreSQL management system, and a web interface to query the database. The VO Resource allows the access to the database using URL parsing and produces a standard answer following the Cone Search requirements established by IVOA (International Virtual Observatory Alliance). Use cases have been provided to give some details about the possible applications of this tool. We have used VO tools like Aladin and TOPCAT, our own VO Resource and other available VOs. We have therefore illustrated the power of the VO initiative, as well as the benefits of the data standardization and an efficient and simple data access method for the scientific community.
Collections