Publication:
"Hiperides In Diondam: texto, traducción y comentario"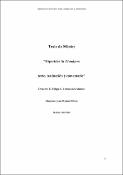 Authors
Advisors (or tutors)
Editors
Abstract
Primera traducción española, acompañada de edición crítica del texto griego, extensa introducción y comentario, del nuevo discurso "In Diondam" del orador griego Hiperides (ca. 389 – 322 a.C.), que ha aparecido transmitido en el llamado "Palimpsesto de Arquímedes"
First Spanish translation, accompanied by critical edition of the Greek text, wide introduction and commentary, of the new discourse "In Diondam" of Greek orator Hypereides (ca. 389-322 BC) that has appeared transmitted in the so-called "Archimedes Palimpsest"
Description
Es un Trabajo Fin de Master que ha recibido el Premio Nacional de la Sociedad Española de Estudios Clásicos y de la Fundación Pastor de Estudios Clásicos (curso 2009-2010)