Publication:
Derecho Penal. Introducción. Teoría jurídica del delito. Materiales para su docencia y aprendizaje.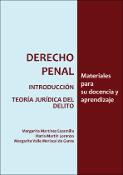 Advisors (or tutors)
Editors
Abstract
La obra contiene diversos materiales para la enseñanza y el aprendizaje de la Parte General del Derecho penal, en concreto, de la Introducción y la Teoría jurídica del delito, animados por los objetivos de interesar e involucrar al alumno en la reflexión y en la propuesta de soluciones jurídicas así como de hacerlo consciente de las implicaciones que las decisiones técnico-jurídicas poseen en una disciplina como el Derecho penal. Se articulan principalmente en torno a veintidós bloques, concebidos como una suerte de lecciones que sirvan de guía en el acercamiento a los temas de la disciplina y donde se aúna la información sobre contenidos con numerosos ejercicios y propuestas de trabajo de carácter eminentemente práctico. Además, se incluyen algunos otros elementos como, por ejemplo, un modelo de guía docente, una lista de preguntas de las que el alumno puede ser examinado o una prueba de autoevaluación. This work provides several materials aimed to the teaching and learning of Criminal Law's General Part (especially the Introductory Part and the Legal Theory of Crime). The purpose is to stimulate the student's interest in this subject and to implicate him or her into reflexion and into the proposal of legal solutions to the problems, making him or her aware of the implications that legal technical solutions produce in a field like Criminal Law. The book is organized in 22 main blocks or lessons, where theoretical contents appear together with many exercises, cases and practical activities. Some other elements are also included, as a course guide pattern, a list of possible questions for exams or self-evaluation models.
Collections