Publication:
Bigels as drug delivery systems: From their components to their applications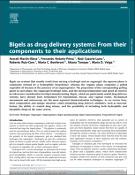 Advisors (or tutors)
Editors
Abstract
Bigels are systems that usually result from mixing a hydrogel and an organogel: the aqueous phase is commonly formed by a hydrophilic biopolymer, whereas the organic phase comprises a gelled vegetable oil because of the presence of an organogelator. The proportion of the corresponding gelling agent in each phase, the organogel/hydrogel ratio, and the mixing temperature and speed all need to be taken into consideration for bigel manufacturing. Bigels, which are particularly useful drug delivery systems, have already been formulated for transdermal, buccal, and vaginal routes. Mechanical assessments and microscopy are the most reported characterization techniques. As we review here, their composition and unique structure confer promising drug delivery attributes, such as mucoadhesion, the ability to control drug release, and the possibility of including both hydrophilic and lipophilic drugs in the same system.
Description
CRUE-CSIC (Acuerdos Transformativos 2021)
Collections