Publication:
New β-decaying state in Bi-214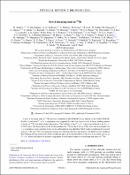 Advisors (or tutors)
Editors
Abstract
A new beta-decaying state in Bi-214 has been identified at the ISOLDE Decay Station at the CERN-ISOLDE facility. A preferred I-pi = (8(-)) assignment was suggested for this state based on the beta-decay feeding pattern to levels in Po-214 and shell-model calculations. The half-life of the I-pi = (8) state was deduced to be T-1/2 = 9.39(10) min. The deexcitation of the levels populated in Po-214 by the beta decay of this state was investigated via gamma-gamma coincidences and a number of new levels and transitions was identified. Shell-model calculations for excited states in Bi-214 and Po-214 were performed using two different effective interactions: the H208 and the modified Kuo-Herling particle interaction. Both calculations agree on the interpretation of the new beta-decaying state as an I-pi = 8 - isomer and allow for tentative assignment of shell-model states to several high-spin states in Po-214.
Description
Artículo firmado por 60 autores. We thank the ISOLDE Collaboration for providing excellent beams and the GSI Target Group for manufacturing the carbon foils. This work has been supported by the Research Foundation Flanders (FWO, Belgium), by GOA/2015/010 (BOF KU Leuven), the Interuniversity Attraction Poles Programme initiated by the Belgian Science Policy Office (BriX network P7/12), by the ENSAR2: European Union's Horizon 2020 research and innovation programme under Grant Agreement No. 654002, by the U.K. Science and Technology Facilities Council, by the Slovak Research and Development Agency (Contract No. APVV-18-0268), by the Slovak grant agency VEGA (Contract No. 1/0651/21), by RFBR according to the research project N 19-02-00005, by the Romanian IFA Grant CERN/ISOLDE, by the Spanish Funding Agency (AEI) under the project PID2019-104390GB-I00, by the German BMBF under Grant No. 05P18PKCIA and by the Spanish Ministerio de Ciencia e Innovacion grant PID2019-104714GB-C21. M.S. acknowledges funding from the European Union's Horizon 2020 research and innovation program under Grant Agreement No. 771036 (ERC CoG MAIDEN).
Collections