Publication:
Las nuevas características de las operaciones de cascos azules de las Naciones Unidas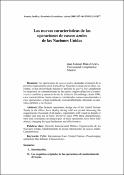 Advisors (or tutors)
Editors
Abstract
Las operaciones de cascos azules, diseñadas al margen de lo previsto expresamente en la Carta de las Naciones Unidas en los años cincuenta, se han desarrollado durante el período de guerra fría cumpliendo los requisitos de consentimiento de las partes, imparcialidad en la controversia o conflicto y ausencia de uso de la fuerza. Sin embargo, desde 1990, estas características, hasta entonces consideradas como consustanciales a estas operaciones, se han modificado considerablemente, alterando su naturaleza jurídica y su eficacia. Abstract: Blue helmets operations, design out of the United Nations Treaty in the fifties, have deploy during cold war period observing the requeriments of consent of all parties, impartiality with regard to dispute or conflict and non use of force. However since 1990 these characteristics, until then considered an integral part of these operations, have been fully altered, changing the legal fundament and effectiveness.
Collections