Publication:
The nearest young moving groups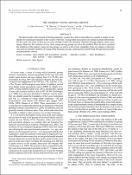 Advisors (or tutors)
Editors
Publisher
American Astronomical Society
Abstract
The latest results in the research of forming planetary systems have led several authors to compile a sample of candidates for searching for planets in the vicinity of the Sun. Young stellar associations are indeed excellent laboratories for this study, but some of them are not close enough to allow the detection of planets through adaptive optics techniques. However, the existence of very close young moving groups can solve this problem. Here we have compiled the members of the nearest young moving groups, as well as a list of new candidates from our catalog of late-type stars that are possible members of young stellar kinematic groups, studying their membership through spectroscopic and photometric criteria.
Description
© 2006. The American Astronomical Society. All rights reserved. This work was supported by the Universidad Complutense de Madrid and the Spanish Ministerio de Educación y Ciencia (MEC), Programa Nacional de Astronomía y Astrofísica under grants AYA 2004-03749 and AYA 2005-02750. I. C. C. acknowledges support from MEC under AP2001-0475. We would like to thank the referee for useful comments that have helped improve the manuscript.
Citation
Agekyan, T. A., & Belozerova, M. A. 1979, Soviet Astron., 23, 4 Asiain, R., Figueras, F., & Torra, J. 1999a, A&A, 350, 434 Asiain, R., Figueras, F., Torra, J., & Chen, B. 1999b, A&A, 341, 427 Chen, C. H., et al. 2005, ApJ, 634, 1372 Close, L. M., et al. 2005, Nature, 433, 286 De Simone, R. S., Wu, X., & Tremaine, S. 2004, MNRAS, 350, 627 Eggen, O. J. 1965, Observatory, 85, 191 ———. 1975, PASP, 87, 37 ———. 1983a, MNRAS, 204, 377 ———. 1983b, MNRAS, 204, 391 ———. 1984, ApJS, 55, 597 ESA. 1997, The Hipparcos and Tycho Catalogues ( ESA-SP 1200; Noordwijk: ESA) Famaey, B., Jorissen, A., Luri, X., Mayor, M., Udry, S., Dejonghe, H., & Turon, C. 2005, A&A, 430, 165 Fuhrmann, K. 2004, Astron. Nachr., 325, 3 Gaidos, E. J. 1998, PASP, 110, 1259 Gaidos, E. J., & Koresko, C. 2004, NewA, 9, 33 Guirado, J. C., et al. 2005, A&A, 2006, A&A, 446, 733 Heartyi, T., Neuhäuser, R., Stelzer, B., Fernández, M., Alcalá, J. M., Covino, E., & Hambaryan, V. 2000, A&A, 353, 1044 Jeffries, R. D. 1995, MNRAS, 273, 559 King, J. R., Villarreal, A. R., Soderblom, D. R., Gulliver, A. F., & Adelman, S. J. 2003, AJ, 125, 1980 Liu, M. C., et al. 2004, ApJ, 608, 526 López Santiago, J. 2005, Ph.D. thesis, Univ. Complutense de Madrid ( UCM ) López Santiago, J., Montes, D., Fernández Figueroa, M. J., & Ramsey, L. W. 2003, A&A, 411, 489 López Santiago, J., Montes, D., Gálvez, M. C., Crespo Chacón, I., Fernández Figueroa, M. J., De Castro, E., & Cornide, M. 2006, A&A, submitted Lowrance, P., et al. 2005, AJ, 130, 1845 Luhman, K. L., & Potter 2006, ApJ, 638, 887 Luhman, K. L., Stauffer, J. R., & Mamajek, E. E. 2005, ApJ, 628, L69 Marois, C., Macintosh, B., Song, I., & Barman, T. 2005, preprint (astro-ph/ 0502382) Martín, E. L. 2003, AJ, 126, 918 Masciadri, E., et al. 2005, ApJ, 625, 1004 Metchev, S. A., Hillenbrand, L. A., & Meyer, M. R. 2004, ApJ, 600, 435 Montes, D., López Santiago, J., Gálvez, M. C., Fernández Figueroa, M. J., De Castro, E., & Cornide, M. 2001, MNRAS, 328, 45 Neuhäuser, R., et al. 2000, A&A, 354, L9 Ortega, V. G., de la Reza, R., Jilinsky, E., & Bazzanella, B. 2004, ApJ, 609, 243 Quast, G. R., Torres, C. A. O., de la Reza, R., da Silva, L., & Drake, N. 2001, in ASP Conf. Ser. 244, Young Stars Near Earth: Progress and Prospects, ed. R. Jayawardhana & T. Greene (San Francisco: ASP), 49 Quillen, A. C., & Minchev, I. 2005, AJ, 130, 576 Siess, L., Duffour, E., & Forestini, M. 2000, A&A, 358, 593 Skuljan, J. 1999, Ph.D. thesis, Univ. Canterbury (Christchurch) Weinberger, A. J., Rich, R. M., Becklin, E. E., Zuckerman, B., & Matthews, K. 2000, ApJ, 544, 937 Wichmann, R., Schmitt, J. H. M. M., & Hubrig, S. 2003, A&A, 399, 983 Wielen, R. 1971, A&A, 13, 309 Zuckerman, B., & Song, I. 2004, ARA&A, 42, 685 Zuckerman, B., Song, I., & Bessell, M. S. 2004, ApJ, 613, L65 Zuckerman, B., Song, I., Bessell, M. S., & Webb, R. A. 2001, ApJ, 562, L87
Collections