Publication:
Experiencias educativas en el yacimiento paleontológico de Somosaguas (Pozuelo de Alarcón, Madrid)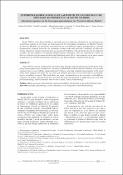 Advisors (or tutors)
Editors
Publisher
Asociación Española para la Enseñanza de las Ciencias de la Tierra
Abstract
Desde 1998 se viene desarrollando un innovador proyecto educativo alrededor de un yacimiento paleontológico situado en el Campus de Somosaguas de la Universidad Complutense de Madrid (Pozuelo de Alarcón, Madrid). Sus peculiares características de accesibilidad, riqueza paleontológica y elevada fragmentación original, hacen de este yacimiento un lugar adecuado para que estudiantes de diferentes niveles educativos realicen prácticas tanto de excavación metódica como de iniciación a la investigación científica. En este trabajo se recapitulan además algunas reflexiones sobre las experiencias vividas con diversos colectivos de personas con diversidad funcional, tanto física como psíquica, en un nuevo campo de aplicación de la Paleontología que constituye lo que hemos llamado "Paleontología Social".
Since 1998 an activity of innovative teaching is done around a palaeontological fossil site in the Campus of Somosaguas of the Complutense University of Madrid (Pozuelo de Alarcón, Madrid). The peculiar characteristics of accessibility, palaeontological richness, and high original fragmentation of the fossil bones make adequate this fossil site as a place for students' practices in excavation and as an introduction to scientifical research. This work show too, some considerations on the experiences with different collectives of people with functional diversity, both physical and psychical, as applications in a new field for Palaeontology, which constitutes what we have called "Social Palaeontology".
Collections