Publication:
Dos caminos en la sociología de la literatura: hacia una definición programática de la sociología de la literatura española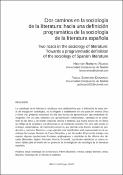 Advisors (or tutors)
Editors
Publisher
Federacion Española de Sociologia
Abstract
La sociología de la literatura constituye una subdisciplina que, a diferencia de otras áreas de indagación sociológica, no ha llegado a establecerse en una posición teórica única y firme. Así, podemos encontrar en ella dos formas de aproximación casi totalmente divergentes. Por un lado, hallamos una aproximación «internalista», centrada en el contenido de las obras y de fuerte impronta teórica e idealista, que busca dentro de los libros un reflejo de la sociedad y sus dinámicas en un momento concreto. Por otro lado, existe un enfoque «externalista», de inclinación empírica, que atiende a las formas sociales de producción y consumo literario, y cuyo ejemplo más significativo está representado en la sociología del campo literario de Pierre Bourdieu y sus discípulos. El presente trabajo, tras repasar algunas aportaciones francesas, anglosajonas y españolas de las últimas dos décadas (Bourdieu, Sapiro, González García, Griswold...) pretende establecer un marco teórico válido para el diseño de un proyecto de investigación de sociología de la literatura española.
In opposition to other areas of sociological inquiry, the sociology of literature has not been able to establish a strong and solid theoretical position as a sub-discipline. Hence two almost completely different approaches exist within it. On the one hand, an «internalist» approach focuses on the content of literary works and is more concerned with theory —implying an idealistic point of view. The internalist approach conceives of the book as a reflection of society in a concrete time period. On the other hand, the «externalist» approach is more concerned with empirical work and focuses on social modes of literary production and consumption. Bourdieu's sociology of the literary field and the works of his followers are representative examples of this second orientation. After reviewing certain French, Anglo-Saxon and Spanish traditions in the sociology of literature during the last two decades (Bourdieu, Sapiro, González García, Griswold, etc.), this article attempts to draw a valid theoretical framework for a future research project about the sociology of Spanish literature.
Collections