Publication:
Bajo el signo de la moral. ¿Son útiles los incentivos morales para explicar la acción colectiva?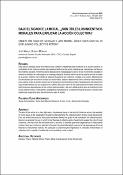 Files
Advisors (or tutors)
Editors
Publisher
Instituto de Estudios Sociales Avanzados, Consejo Superior de Investigaciones Científicas
Abstract
Este artículo persigue poner en evidencia una cuestión fundamental para el estudio de la acción colectiva: la centralidad de los motivos morales para explicar las formas de acción colectiva que caracterizan los Nuevos Movimientos Sociales. Partiremos de las descripciones realizadas por la teoría de los movimientos sociales en relación a este tipo de motivos para, en una segunda parte, analizar las formas en las que las teorías formales de la acción colectiva han tratado de explicar el papel de los incentivos morales en la acción. Mostraremos las dificultades que encuentran dichas teorías formales, dada su dependencia de los motivos instrumentales, para explicar el tipo de acción descrito por la teoría de los movimientos sociales. Seguidamente introduciremos algunas alternativas que han surgido en los últimos años para hacer de las explicaciones formales constructos teóricos menos dependientes de los motivos instrumentales y dar, así, cabida a otros tipos de incentivos como los de carácter moral. Concluiremos señalando la importancia de una teoría formal de la acción colectiva más amplia que acoja otros tipos de motivaciones para la acción.
The aim of this article is to shed light onto a fundamental issue to the study of collective action: the centrality of moral issues to the explanation of patterns characterizing the collective action of New Social Movements. First, we review the accounts that social movement theory has given of the motivations for collective action. Second, we analyze the way in which formal theories of collective action have tried to explain the role of moral incentives. We then show the difficulties met by this kind of theories given their dependence on instrumental motives. Next we introduce a selection of recent theoretical attempts to overcome the dependency of formal theories to instrumental motives. We conclude by underlining the importance of a broader formal theory of collective action capable of realistically accommodating moral motives.
Collections