Publication:
Propagación Covid 19: recolección, tratamiento y análisis de los datos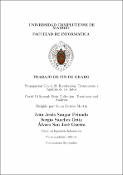 Advisors (or tutors)
Editors
Abstract
Este Trabajo de Fin de Grado es una aportación al estudio analítico sobre la evolución del COVID-19, aportando un repositorio capaz de generar conjuntos de datos de interés. El estudio se centra en América, Asia y Europa, analizando los países más afectados. Mediante un ranking cuantitativo con los datos de los países considerados, se han seleccionado un conjunto de países para realizar un estudio con varios índices para medir la evolución y peligrosidad de la pandemia. Se han utilizado tres índices: índice de transmisión R0, incidencia acumulada (a 14 días) e índice de peligrosidad (IP). Además se ha realizado una clasificación mediante el algoritmo K-Means utilizando como referencia los índices citados durante un periodo de 25 días alrededor de la segunda ola. El estudio se ha realizado por regiones a dos niveles: Comunidades Autónomas en España y diversas regiones en el mundo. Se han generado y analizado gráficas a partir de las variables más representativas e índices con el objetivo de observar el impacto causado por el COVID-19 sobre las distintas regiones.
This Final Degree Proyect is a contribution to the analytical study on the evolution of COVID-19 worldwide, providing a repository capable of generating a database from the data provided by John Hopkins University. The study focuses on America, Asia and Europe, analysing the most affected countries and classifying them. Once classified, graphs were generated and analysed based on the most representative variables in order to observe the impact caused by COVID-19 on the different regions. As a complementary study, an assessment was carried out by looking at the worst affected region of the most affected countries.
Description
Trabajo de Fin de Grado en Ingeniería Informática, Facultad de Informática UCM, Departamento de Sistemas Informáticos y Computación, Curso 2020/2021