Publication:
Evolución cognitiva y calidad de vida tras la erradicación del virus de la hepatitis C - estudio ECOVIC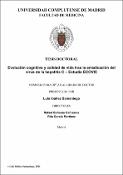 Files
Authors
Advisors (or tutors)
Editors
Publisher
Universidad Complutense de Madrid
Abstract
La infección crónica por el virus de la hepatitis C (VHC) altera el funcionamiento cognitivo de algunos pacientes asociándose a una disminución de la calidad de vida relacionada con la salud (CVRS) y del funcionamiento. El efecto que el VHC tiene sobre el cerebro obedece a mecanismos fisiopatológicos diferentes según la fase de la enfermedad. En la fase previa al desarrollo de cirrosis predomina un efecto directo del VHC sobre el cerebro mientras que, en la fase de cirrosis, la insuficiencia hepática causa la disfunción cerebral. Se desconoce la forma en que ambas alteraciones interaccionan entre sí en los pacientes con enfermedad hepática avanzada así como el efecto que la erradicación del VHC con los nuevos antivirales pudiera tener sobre la función cognitiva y sobre la CVRS. OBJETIVOS: 1. Describir la función cognitiva, el estado de ánimo, el funcionamiento y la CVRS de acuerdo con el grado de lesión hepática y su evolución tras la erradicación del virus. 2. Identificar los factores relacionados con la presencia de disfunción cognitiva en pacientes con infección por el VHC antes y después de la erradicación...
Chronic hepatitis C virus (HCV) infection influences cognitive function in some patients which is associated with a decrease in health-related quality of life (HRQoL) and functioning. According to the stage of liver disease, two different pathophysiological mechanisms are involved in cognitive impairment (CI). Before the development of cirrhosis, a direct neuropathic effect of the HCV prevails, while in the cirrhotic stage liver failure is the main driver of cognitive dysfunction. The way that both mechanisms interplay in patients with advanced liver disease is unknown, as well as the effect that viral eradication with the new direct antiviral agents (DAA) may have on cognitive function and HRQoL. ENDPOINTS: 1. To describe cognitive function, mood, functioning and HRQoL according to the stage of liver disease at baseline and after viral eradication. 2. To identify characteristics related to the presence of CI at baseline and after HCV eradication...
Description
Tesis inédita de la Universidad Complutense de Madrid, Facultad de Medicina, leída el 15/02/2021
Collections