Publication:
Contribuciones para el debate sobre la antropología aplicada y profesional: una aproximación a la cultura disciplinar de la antropología chilena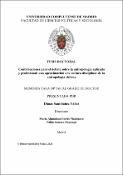 Files
Authors
Advisors (or tutors)
Editors
Publisher
Universidad Complutense de Madrid
Abstract
La antropología aplicada, profesional o implicada en el acontecer público ha sido materia de controversias históricas en el desarrollo de la antropología. El debate "nunca acabado, pero siempre silencioso" en torno a la profesionalización de la disciplina compromete a las antropologías de diversos países. En estos debates la antropología reflexiona, por ejemplo, sobre la utilidad social de su quehacer, sobre la contribución del conocimiento que produce o sobre su implicación en los debates públicos. Estos debates expresan la siempre problemática relación que, en diferentes antropologías locales, ha existido entre la antropología académica y la antropología aplicada. Para la antropología chilena estos debates no son ajenos. A lo largo de los últimos 30 años la antropología en Chile ha experimentado cambios importantes en el nivel de su desarrollo científico, académico y formativo. A pesar de ello la antropología aplicada sigue enfrentado un bajo reconocimiento disciplinar y social
Anthropology applied, professional or involved in public events has been subject of historical controversies in anthropology's development. The "never finished, but always silent" debate around the discipline's professionalization involves anthropologies from various countries. In these debates, anthropology reflects, for example, on the social utility of its work, on the contribution of the knowledge it produces or on its involvement in public debates. These debates express the always problematic relationship that, in different local anthropologies, has existed between academic anthropology and applied anthropology.Chilean anthropologists have been part of this debate. Over the last 30 years, anthropology in Chile has undergone relevant changes, but the development of applied anthropology is still pending. Applied anthropology continues to have low academic and social recognition. Previous studies have identified the gap between subjects covered by anthropology departments and those required by nonacademic clients/institutions. This research aims to contribute to this debate...
Description
Tesis inédita de la Universidad Complutense de Madrid, Facultad de Ciencias Políticas y Sociología, leída el 26-01-2021
Collections