Publication:
La propiedad intelectual en la España contemporánea, 1847-1936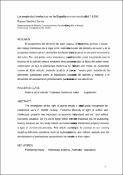 Authors
Advisors (or tutors)
Editors
Publisher
Consejo Superior de Investigaciones Científicas
Abstract
El surgimiento del derecho de autor supuso el reconocimiento jurídico y social del trabajo intelectual en el siglo XVIII. Además, el estudio del derecho de autor y de la propiedad intelectual son elementos fundamentales para analizar la situación económica del autor. Por otra parte, estos elementos constituyen también parte importante para la historia de la edición porque mediante ellos podemos estudiar la figura del editor como empresario ya que la propiedad intelectual se convirtió en una forma de propiedad comercial. Este artículo pretende analizar el proceso en nuestro país, estudiando las diferentes cuestiones como la legislación, las actitudes de autores y editores y el desarrollo de asociaciones profesionales para la defensa de sus derechos. [ABSTRACT]The emergence of the right of author meant a legal and social recognition for intellectual work in XVIIIth century. Therefore, the study of right of author and intellectual property are important components to understand authors' and editors'economic situation. On the other hand, these elements are important too for publishing history because we can study editors as businessmen when intellectual property became a type of commercial property. This article wants analyze he process in our country studying differents questions such as legislation, authors' and editors' attitude and the development of professional associations for the defence of their rights.
Collections