Publication:
Catálogo de los braquiópodos españoles del Jurásico inferior depositados en el Museo Geominero (ITGE, Madrid)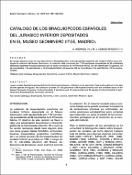 Authors
Advisors (or tutors)
Editors
Publisher
Instituto Geológico y Minero de España (Madrid)
Abstract
Se revisan desde el punto de vista taxonómico y bioestratigráfico los braquiópodos españoles del Jurásico Inferior que constituyen la colección del Museo Geominero. La colección está compuesta por 1102 ejemplares procedentes de 98 localidades diferentes repartidas fundamentalmente por el sector nororiental de la Península Ibérica. Se han identificado 23 géneros (10 de rinconélidos, 3 de espiriféridos y 10 de terebratúlidos) y 59 especies (24 de rinconélidos, 5 de espiriféridos y 30 de terebratúlidos).
Lower Jurassic Spanish brachiopods from the Geominero Museum collection are re-examinad. Taxa are brought up to the dateand the species are figured. The collection consists of 1102 specimens of 98 localities mainly from the northeast sector of the lberian Peninsula. 23 genera (10 rhynchonellids, 3 spiriferids and 10 terebratulids) and 59 species (24 rhynchonellids, 5 spiriferids and 30 terebratulids) have been identified.
Collections