Publication:
La opinión de los profesionales sobre la participación ciudadana en los medios de comunicación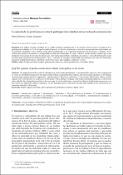 Advisors (or tutors)
Editors
Abstract
Este trabajo presenta resultados de un Delphi realizado a profesionales de los medios a fin de conocer el impacto de la participación ciudadana en: 1) el uso que los medios hacen de las fuentes tradicionales y cómo han incorporado otras relacionadas con el periodismo ciudadano; 2) los cambios en las rutinas profesionales y en la aparición/transformación de géneros y formatos; 3) los cambios que afectan a la audiencia y su capacidad para estar bien informada. En suma, cuál es el sentido de estos cambios que se han producido en las pautas de consumo de medios, qué valor aporta el periodismo ciudadano a las noticias y si la sobreinformación actual está derivando en procesos de desinformación o, por el contrario, ha mejorado la capacidad de la audiencia para estar bien informada, mejorar la calidad democrática y contribuir a la construcción de una ciudadanía consciente y crítica.
This paper presents the results of a Delphi study ran by media professionals to understand the impact of citizen engagement in: 1) the use of traditional sources by the media and how these incorporated other relations with citizenship journalism; 2) the changes in professional routines and in the appearance / transformation of the genres and formats; 3) the changes affecting the audience and its capacity to be well informed. In summary, what the sense of these changes produced in the media consumption patterns is, which is the value added by the citizenship journalism to the news, and if current information overload is leading to disinformation processes or on the contrary has helped the audience capacity to be well informed, improve democratic quality and contribute to the construction of a conscious and critical citizenship.
Collections