Publication:
Profile of Matrix-Remodeling Proteinases in Osteoarthritis: Impact of Fibronectin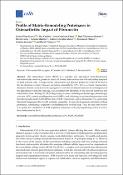 Advisors (or tutors)
Editors
Abstract
The extracellular matrix (ECM) is a complex and specialized three-dimensional macromolecular network, present in nearly all tissues, that also interacts with cell surface receptors on joint resident cells. Changes in the composition and physical properties of the ECM lead to the development of many diseases, including osteoarthritis (OA). OA is a chronic degenerative rheumatic disease characterized by a progressive loss of synovial joint function as a consequence of the degradation of articular cartilage, also associated with alterations in the synovial membrane and subchondral bone. During OA, ECM-degrading enzymes, including urokinase-type plasminogen activator (uPA), matrix metalloproteinases (MMPs), and a disintegrin and metalloproteinase with thrombospondin motifs (ADAMTSs), cleave ECM components, such as fibronectin (Fn), generating fibronectin fragments (Fn-fs) with catabolic properties. In turn, Fn-fs promote activation of these proteinases, establishing a degradative and inflammatory feedback loop. Thus, the aim of this review is to update the contribution of ECM-degrading proteinases to the physiopathology of OA as well as their modulation by Fn-fs.
Collections