Publication:
Causality of a wave-equation and invariance of its hyperbolicity conditions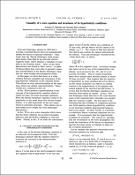 Authors
Advisors (or tutors)
Editors
Publisher
American Physical Society
Abstract
A characterization of the noncausal behavior of a covariant wave equation is given in terms of the invariance of the hyperbolicity conditions. Some examples in which the Dirac field is not causal are studied.
Description
© 1980 The American Physical Society. We are very indebted to Dr. L. Vázquez and Dr. J. Usón for discussions. This paper was partly supported by Junta de Energía Nuclear, Madrid.
Citation
1.- G. Velo and D. Zwanziger, Phys. Bev. 186, 1337 (1969). 2.- G. Velo and D. Zwanziger, Phys. Bev. 188, 2218 (1969). 3.- R. Courant and D. Hilbert, Methods of Mathematical Physics (Interscience, New York, 1962), Vol. 2, Chap. VI. 4.- D. Zwanziger, Lecture Notes in Physics, No. 73(Springer, Berlin, 1978). 5.- S. Weinberg, Gravitation and Cosmology (Wiley, New York, 1972).
Collections