Publication:
Un tratamiento axiomático de las decisiones colectivas con opiniones difusas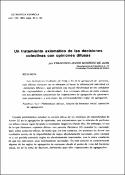 Authors
Advisors (or tutors)
Editors
Publisher
Instituto Nacional de Estadística
Abstract
Los restrictivos resultados de Fung y Fu en la agregación de «preferencias difusas clásicas» no se obtienen al basar la información individual en «opiniones difusas», que permiten una mayor flexibilidad en los conceptos de «racionalidad» y«decisividad». Las versiones difusas de estos conceptos nos permiten caracterizar las «operaciones de agregación de opiniones» más importantes, y con éstas, las correspondientes reglas de agregación.
The restrictive resutts obtained by Fung and Fu retative t© fuzzy preferences aggregation are avoided when we take «fuzzy opinions» as individual information, which allows us to work with «rationality» and «decisiveness» as fuzzy concepts. So, we can caracterize some of the most important operations of aggregation and the respective rules.
Collections