Publication:
Estudio bioestratigráfico del Llanvirn y Llandeilo (Dobrotiviense) en la parte meridional de la Zona Centroibérica (España)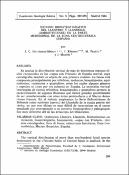 Advisors (or tutors)
Editors
Publisher
Servicio de Publicaciones de la Universidad Complutense de Madrid
Abstract
Se analiza la distribución vertical de más de doscientas especies fósiles reconocidas en las «capas con Tristani» de España central, cuya estratigrafía también es objeto de una primera revisión. La fauna está compuesta principalmente por trilobites, moluscos, braquiópodos, equinodermos, crustáceos y graptolitos, entre los cuales algunos géneros y especies se citan por vez primera en España. La extensión vertical restringida de ciertos trilobites, braquiópodos y graptolitos permite la caracterización de algunas Biozonas que tienen grandes posibilidades de ser correlacionadas con otras áreas peninsulares y el Macizo Armoricano francés. En el trabajo empleamos la Serie Dobrotiviense de Bohemia como sustituto (aprox.) del Llandeilo de la escala patrón británica, ya que este último es muy difícil de caracterizar en el sector estudiado por corresponder a un contexto biogeográfico y paleogeográfico muy diferente del de las áreas-tipo del Ordovícico.
The vertical distribution of more than two-hundred fossil species determined in the <<Tristani beds» of Central Spain is analized. At the same time, their stratigraphy is reviewed. Its fauna is composed mainly by trilobites, molluscs, brachiopods, echinoderms, crustaceans and graptolites, some of whose species are listed for the first time in Spain. Ihe restricted vertical distribution of certain trilobites, brachiopods and graptolites allows the charachterization of several biozones with a high possibility of correlation with other peninsular areas and with the French Armorican Massif. In this study we make use of the Dobro- tivian Series of Bohemia as a substitute of the Llandeilo of the British standard scale, as the latter proves to be exceedingly difficult to charachterize in the studied region, because of its belonging to a biogeographic and palaeogeographic background very different from that of the Ordovician type-areas.
Collections