Publication:
Un sistema de control autónomo para personajes de videojuegos basado en el modelo cognitivo Creencia-Deseo-Intención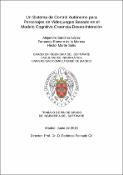 Files
Advisors (or tutors)
Editors
Abstract
La industria del videojuego ha avanzado a grandes pasos durante los últimos años respecto a la creación de "inteligencia artificial" para sus personajes, afirmando siempre que la utilizan para dotar de realismo y credibilidad a sus personajes. Sin embargo este concepto ha variado sustancialmente año tras año, y aún hoy, la inteligencia que encontramos en los personajes está lejos de lo que uno podría esperar de ello, incluso lejos de lo ya estudiado y conocido en la correspondiente disciplina académica. En el afán por desarrollar personajes que sean realmente autónomos y tomen sus propias decisiones tras razonar acerca de lo que ocurre en el juego, en este trabajo porponemos un sistema capaz de dotar de control autónomo a los personajes de un videojuego y con potencial para mostrar una mayor inteligencia. Para ello conectamos un armazón de desarrollo de videojuegos llamado IsoUnity, desarrollado sobre el entorno Unity, con un sistema multi-agente llamado Jason e implementado en Java, que utiliza el conocido modelo cognitivo Creencia-Deseo-Intención para representar el estado interno de la mente de los agentes, que en nuestro caso serán personajes de videojuego. A la hora de producir un videojuego, se implementa mediante un sistema de agentes inteligentes, con información subjetiva sobre el mundo, objetivos y planes y tareas que realizar, el jugador tendrá una experiencia más plena. Nuestra visión es la de adoptar este sistema en el desarrollo de videojuegos independientes de perspectiva isométrica y recursos sencillos de estilo retro, de ahí el uso de IsoUnity. En esta memoria, además de explicar en detalle nuestro sistema de control, documentamos las pruebas y las adaptaciones que proponemos para llevar a la práctica este concepto, sentando las bases tecnológicas para producir un videojuego completo utilizando este sistema. Siguiendo el camino iniciado en anteriores Trabajos de Fin de Grado de esta Facultad, queríamos continuar en esa línea de trabajo afinando más el concepto y abordando un tema nuevo, el de dotar a los personajes de videojuegos creados con IsoUnity de una autonomía mayor y mejores herramientas de toma de decisión para poder interactuar con su entorno y con otros personajes.
Video game industry has made great advances in recent years towards creation of an "artificial intelligence" for their characters, telling that they use it to provide realism and credibility to their characters` behaviors. However, this concept has changed substantially year after year, and even today, intelligence found in the characters is far from what one might expect of it, and even far from what already studied and known in the relevant academic discipline. In the rush to develop characters that are truly autonomous and make their own decisions, after reasoning about what happens in the game,in this paper we propose an intelligent system capable of providing autonomous control the characters in a video game and potential to show greater intelligence. To do this, we connect a game development framework called IsoUnity (Pérez Colado & Pérez Colado, 2014), developed on the Unity environment, with a multi-agent system named Jason and implemented on Java, which uses the known cognitive model Belief-Desire-Intention (BDI) to represent the internal state of the minds of the characters, which in our case will be video game characters. When making a video game, if implemented through a system of intelligent agents, with subjective information about the world, own goals and plans and tasks to perform, the player a more fulfilling experience. Our vision is to adopt this system in the development of independent video games isometric perspective and simple retro style resources, hence the use of IsoUnity. In this paper, in addition to explain in detail our control system, documented tests and adjustments we propose to implement this concept, laying the technological base to produce a complete game using this system. Following the path initiated in previous Final degree project of this Faculty, we want to continue in that line of work further refining the concept and addressing a new topic, equip the video games characters created with IsoUnity greater autonomy and better decision-making tools to interact with their environment and other characters.
Description
Trabajo de Fin de Grado en Ingeniería Informática (Universidad Complutense, Facultad de Informática, curso 2015/2016)