Publication:
Proyecto UCM Reservas : una herramienta para la mejora de la reserva de espacios de la Facultad de Informática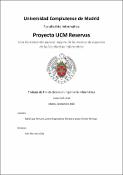 Advisors (or tutors)
Editors
Abstract
En la actualidad, la gestión de espacios comunes en la Facultad de Informática se realiza de diferentes maneras y en ella intervienen diferentes actores dependiendo del espacio que se desea utilizar y la finalidad del mismo. Los espacios utilizados para la docencia (aulas y laboratorios) son gestionados por el Vicedecano de Ordenación académica y Gerencia, las salas de Reuniones, Sala de Grados, Salón de Actos y Despachos de Visitantes son directamente gestionados desde Decanato. Además, la información sobre uso de aulas y laboratorios está disponible y actualizada a través de la web de la Facultad, pero la disponibilidad del resto de espacios no siempre está disponible. Asimismo, el procedimiento de reserva de uno de los espacios comunes (ya sea por motivos docentes o investigadores) requiere hablar o enviar un correo electrónico a la persona que gestiona el espacio primero para conocer la disponibilidad real del espacio (u otros espacios alternativos si no fuera posible reservar el espacio deseado) y por otro lado anotar la reserva para publicarla en la web y para dejar aviso a los ordenanzas del centro para que abran el espacio si fuera necesario. En resumen, la gestión de espacios es un proceso manual y tedioso que se podría agilizar utilizando una herramienta que facilite la gestión de los espacios. A raíz de estas limitaciones nace "UCM Reservas" como un sistema de gestión de reservas de espacios para la UCM, abarcando la reserva de todo tipo de espacios, así como la asignación de espacios para la impartición de clases durante los horarios planificados para cada cuatrimestre. En esta memoria se recoge el diseño y la funcionalidad de esta aplicación, así como las tecnologías y procedimientos utilizados para su implementación.
Nowadays, the management of common spaces at Facultad de Informática is done in several ways; different actors can take part on it depending on the space and what we want to do on it and it is usually done manually. Spaces used for teaching purposes (classrooms and laboratories) are managed by the Vice Dean of Academic affairs, while meeting rooms, Degrees' Room, Assembly Hall and Visitors' Offices are managed directly by the dean's office. In addition, information about classrooms and laboratories availability is available and updated on the faculty website, however the reservations of the rest of spaces is not always available. Moreover, the reservation procedure of common spaces (for teaching or research reasons) implies to send an email or making a phone call to the person in charge of the management of the space to know the actual availability of the space (or the availability of alternative spaces in case it wouldn't be possible to reserve the desired space), also to note down the reservation for publishing it in the web and to tell the administrative assistants about this reservation, in order to be unlocked if needed. To sum up, spaces management is a manual and tedious process which could be improved by using a software application. As a consequence of these limitations "UCM Reservas" is devised as a reservations management system for common spaces at UCM, including the reservation of all kind of spaces, as well the allocation of spaces for teaching hours during the the academic terms for each semester. This report describes the design and functionality of this application, as well the technologies and procedures used for its implementation.
Description
Trabajo de Fin de Grado en Ingeniería Informática (Universidad Complutense, Facultad de Informática, curso 2015/2016)