Publication:
Drug-Free Enzyme-Based Bactericidal Nanomotors against Pathogenic Bacteria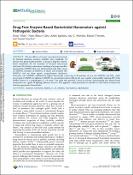 Advisors (or tutors)
Editors
Abstract
The low efficacy of current conventional treatments for bacterial infections increases mortality rates worldwide. To alleviate this global health problem, we propose drug-free enzymebased nanomotors for the treatment of bacterial urinary-tract infections. We develop nanomotors consisting of mesoporous silica nanoparticles (MSNPs) that were functionalized with either urease (U-MSNPs), lysozyme (L-MSNPs), or urease and lysozyme (MMSNPs), and use them against nonpathogenic planktonic Escherichia coli. U-MSNPs exhibited the highest bactericidal activity due to biocatalysis of urea into NaHCO3 and NH3, which also propels U-MSNPs. In addition, U-MSNPs in concentrations above 200 μg/mL were capable of successfully reducing 60% of the biofilm biomass of a uropathogenic E. coli strain. This study thus provides a proof-of-concept, demonstrating that enzyme-based nanomotors are capable of fighting infectious diseases. This approach could potentially be extended to other kinds of diseases by selecting appropriate biomolecules.
Description
CRUE-CSIC (Acuerdos Transformativos 2021)
Collections