Publication:
Flash-PEO as an alternative to chromate conversion coatings for corrosion protection of Mg alloy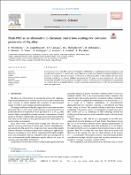 Advisors (or tutors)
Editors
Abstract
In the present work, a flash-PEO coating is developed on AZ31B alloy in a combination of silicate, phosphate, and fluoride based electrolyte in order to offer a green alternative to chromate conversion coatings. Multilevel active protection is achieved through synergetic combination of self-sealing effect of PEO coating itself and active inhibition provided by an organic inhibitor impregnated in PEO pores in a post-treatment step. The results indicate that flash-PEO coatings, loaded with organic corrosion inhibitors, can be recommended for exploitation on industrial level as an equally effective corrosion protection system alternative to CCC for paint-bearing and paint-free applications.
Citation
A.L. Yerokhin, X. Nie, A. Leyland, A. Matthews, S.J. Dowey Plasma electrolysis for surface engineering Surf. Coatings Technol., 122 (1999), pp. 73-93, 10.1016/S0257-8972(99)00441-7 ArticleDownload PDFGoogle Scholar [2] D. Chen, R. Wang, Z. Huang, Y. Wu, Y. Zhang, G. Wu, D. Li, C. Guo, G. Jiang, S. Yu, D. Shen, P. Nash Evolution processes of the corrosion behavior and structural characteristics of plasma electrolytic oxidation coatings on AZ31 magnesium alloy Appl. Surf. Sci., 434 (2018), pp. 326-335, 10.1016/j.apsusc.2017.09.232 ArticleDownload PDFView Record in ScopusGoogle Scholar [3] F. Monfort, A. Berkani, E. Matykina, P. Skeldon, G.E. Thompson, H. Habazaki, K. Shimizu Development of anodic coatings on aluminium under sparking conditions in silicate electrolyte Corros. Sci., 49 (2007), pp. 672-693, 10.1016/j.corsci.2006.05.046 ArticleDownload PDFView Record in ScopusGoogle Scholar [4] R. Arrabal, E. Matykina, T. Hashimoto, P. Skeldon, G.E. Thompson Characterization of AC PEO coatings on magnesium alloys Surf. Coatings Technol., 203 (2009), pp. 2207-2220, 10.1016/j.surfcoat.2009.02.011 ArticleDownload PDFView Record in ScopusGoogle Scholar [5] R. Arrabal, M. Mohedano, E. Matykina, A. Pardo, B. Mingo, M.C. Merino Characterization and wear behaviour of PEO coatings on 6082-T6 aluminium alloy with incorporated α-Al2O3 particles Surf. Coatings Technol., 269 (2015), pp. 64-73, 10.1016/j.surfcoat.2014.10.048 ArticleDownload PDFView Record in ScopusGoogle Scholar [6] M. Kaseem, S. Fatimah, N. Nashrah, Y.G. Ko Recent progress in surface modification of metals coated by plasma electrolytic oxidation: principle, structure, and performance Prog. Mater. Sci. (2020), Article 100735, 10.1016/j.pmatsci.2020.100735 in press View PDFGoogle Scholar [7] P. Cerchier, L. Pezzato, C. Gennari, E. Moschin, I. Moro, M. Dabalà PEO coating containing copper: a promising anticorrosive and antifouling coating for seawater application of AA 7075 Surf. Coatings Technol., 393 (2020), Article 125774, 10.1016/j.surfcoat.2020.125774 ArticleDownload PDFView Record in ScopusGoogle Scholar [8] E. Matykina, R. Arrabal, M. Mohedano, B. Mingo, J. Gonzalez, A. Pardo, M.C. Merino Recent advances in energy efficient PEO processing of aluminium alloys Trans. Nonferrous Met. Soc. China (English Ed., 27 (2017), pp. 1439-1454, 10.1016/S1003-6326(17)60166-3 ArticleDownload PDFView Record in ScopusGoogle Scholar [9] M. Mohedano, E. Matykina, R. Arrabal, B. Mingo, M.L. Zheludkevich PEO of rheocast A356 Al alloy: energy efficiency and corrosion properties Surf. Interface Anal., 48 (2016), pp. 953-959, 10.1002/sia.5815 View PDFView Record in ScopusGoogle Scholar [10] E. Wierzbicka, B. Pillado, M. Mohedano, R. Arrabal, E. Matykina Calcium doped flash-peo coatings for corrosion protection of Mg alloy Metals, 10 (2020), p. 916, 10.3390/met10070916 View PDFGoogle Scholar [11] R. del Olmo, M. Mohedano, P. Visser, E. Matykina, R. Arrabal Flash-PEO coatings loaded with corrosion inhibitors on AA2024 Surf. Coatings Technol., 402 (2020), Article 126317, 10.1016/j.surfcoat.2020.126317 ArticleDownload PDFView Record in ScopusGoogle Scholar [12] R. del Olmo, M. Mohedano, B. Mingo, R. Arrabal, E. Matykina LDH post-treatment of flash PEO coatings Coatings, 9 (2019), pp. 6-20, 10.3390/coatings9060360 View PDFGoogle Scholar [13] C. Blawert, W. Dietzel, E. Ghali, G. Song Anodizing treatments for magnesium alloys and their effect on corrosion resistance in various environments Adv. Eng. Mater., 8 (2006), pp. 511-533, 10.1002/adem.200500257 View PDFView Record in ScopusGoogle Scholar [14] G. Barati Darband, M. Aliofkhazraei, P. Hamghalam, N. Valizade Plasma electrolytic oxidation of magnesium and its alloys: mechanism, properties and applications J. Magnes. Alloy, 5 (2017), pp. 74-132, 10.1016/j.jma.2017.02.004 ArticleDownload PDFView Record in ScopusGoogle Scholar [15] H.F. Guo, M.Z. An Growth of ceramic coatings on AZ91D magnesium alloys by micro-arc oxidation in aluminate-fluoride solutions and evaluation of corrosion resistance Appl. Surf. Sci., 246 (2005), pp. 229-238, 10.1016/j.apsusc.2004.11.031 ArticleDownload PDFView Record in ScopusGoogle Scholar [16] L. Wang, L. Chen, Z. Yan, H. Wang, J. Peng Effect of potassium fluoride on structure and corrosion resistance of plasma electrolytic oxidation films formed on AZ31 magnesium alloy J. Alloys. Compd., 480 (2009), pp. 469-474, 10.1016/j.jallcom.2009.01.102 ArticleDownload PDFGoogle Scholar [17] B. Kazanski, A. Kossenko, M. Zinigrad, A. Lugovskoy Fluoride ions as modifiers of the oxide layer produced by plasma electrolytic oxidation on AZ91D magnesium alloy Appl. Surf. Sci., 287 (2013), pp. 461-466, 10.1016/j.apsusc.2013.09.180 ArticleDownload PDFView Record in ScopusGoogle Scholar [18] W. Mu, Y. Han Characterization and properties of the MgF2/ZrO2 composite coatings on magnesium prepared by micro-arc oxidation Surf. Coatings Technol., 202 (2008), pp. 4278-4284, 10.1016/j.surfcoat.2008.03.022 ArticleDownload PDFView Record in ScopusGoogle Scholar [19] S.P. Sah, Y. Aoki, H. Habazaki Influence of phosphate concentration on plasma electrolytic oxidation of AZ80 magnesium alloy in alkaline aluminate solution Mater. Trans., 51 (2010), pp. 94-102, 10.2320/matertrans.M2009226 View PDFView Record in ScopusGoogle Scholar [20] A. Ghasemi, V.S. Raja, C. Blawert, W. Dietzel, K.U. Kainer The role of anions in the formation and corrosion resistance of the plasma electrolytic oxidation coatings Surf. Coatings Technol., 204 (2010), pp. 1469-1478, 10.1016/j.surfcoat.2009.09.069 ArticleDownload PDFView Record in ScopusGoogle Scholar [21] H. Ma, D. Li, C. Liu, Z. Huang, D. He, Q. Yan, P. Liu, P. Nash, D. Shen An investigation of (NaPO3)6 effects and mechanisms during micro-arc oxidation of AZ31 magnesium alloy Surf. Coatings Technol., 266 (2015), pp. 151-159, 10.1016/j.surfcoat.2015.02.033 ArticleDownload PDFView Record in ScopusGoogle Scholar [22] H. Luo, Q. Cai, B. Wei, B. Yu, D. Li, J. He, Z. Liu Effect of (NaPO3)6 concentrations on corrosion resistance of plasma electrolytic oxidation coatings formed on AZ91D magnesium alloy J. Alloys. Compd., 464 (2008), pp. 537-543, 10.1016/j.jallcom.2007.10.072 ArticleDownload PDFView Record in ScopusGoogle Scholar [23] Y. Mori, A. Koshi, J. Liao, H. Asoh, S. Ono Characteristics and corrosion resistance of plasma electrolytic oxidation coatings on AZ31B Mg alloy formed in phosphate - Silicate mixture electrolytes Corros. Sci., 88 (2014), pp. 254-262, 10.1016/j.corsci.2014.07.038 ArticleDownload PDFView Record in ScopusGoogle Scholar [24] S.V. Lamaka, G. Knörnschild, D.V. Snihirova, M.G. Taryba, M.L. Zheludkevich, M.G.S. Ferreira Complex anticorrosion coating for ZK30 magnesium alloy Electrochim. Acta, 55 (2009), pp. 131-141, 10.1016/j.electacta.2009.08.018 ArticleDownload PDFView Record in ScopusGoogle Scholar [25] M. Mohedano, C. Blawert, M.L. Zheludkevich Cerium-based sealing of PEO coated AM50 magnesium alloy Surf. Coat. Technol., 269 (2015), pp. 145-154, 10.1016/j.surfcoat.2015.01.003 ArticleDownload PDFView Record in ScopusGoogle Scholar [26] D.K. Ivanoua, K.A. Yasakau, S. Kallip, A. Lisenkov, M. Starykevich, S.V. Lamaka, M.G.S. Ferreira, M.L. Zheludkevich Active corrosion protection coating for ZE41 magnesium alloy created by combining PEO and sol-gel techniques RSC Adv., 6 (2016), pp. 12553-12560, 10.1039/C5RA22639B View PDFGoogle Scholar [27] A.S. Gnedenkov, S.L. Sinebryukhov, D.V. Mashtalyar, S.V. Gnedenkov Protective properties of inhibitor-containing composite coatings on a Mg alloy Eval. Program Plann., 102 (2016), pp. 348-354, 10.1016/j.corsci.2015.10.026 ArticleDownload PDFView Record in ScopusGoogle Scholar [28] Y. Chen, X. Lu, S.V. Lamaka, P. Ju, C. Blawert, T. Zhang, F. Wang, M.L. Zheludkevich Active protection of Mg alloy by composite PEO coating loaded with corrosion inhibitors Appl. Surf. Sci., 504 (2019), Article 144462, 10.1016/j.apsusc.2019.144462 View PDFGoogle Scholar [29] J. Yang, C. Blawert, S.V. Lamaka, D. Snihirova, X. Lu, S. Di, M.L. Zheludkevic Corrosion protection properties of inhibitor containing hybrid PEO-epoxy coating on magnesium Corros. Sci., 140 (2018), pp. 99-110, 10.1016/j.corsci.2018.06.014 ArticleDownload PDFView Record in ScopusGoogle Scholar [30] S.V. Lamaka, B. Vaghefinazari, D. Mei, R.P. Petrauskas, D. Höche, M.L. Zheludkevich Comprehensive screening of Mg corrosion inhibitors Corros. Sci., 128 (2017), pp. 224-240, 10.1016/j.corsci.2017.07.011 ArticleDownload PDFView Record in ScopusGoogle Scholar [31] P. Visser, Y. Liu, H. Terryn, J.M.C. Mol Lithium salts as leachable corrosion inhibitors and potential replacement for hexavalent chromium in organic coatings for the protection of aluminum alloys J. Coatings Technol. Res., 13 (2016), pp. 557-566, 10.1007/s11998-016-9784-6 View PDFView Record in ScopusGoogle Scholar [32] A.C. Bouali, A.C. Bastos, S.V. Lamaka, M. Serdechnova, M.G.S. Ferreira, M.L. Zheludkevich Evaporation of electrolyte during SVET measurements: the scale of the problem and the solutions Electroanalysis., 31 (2019), pp. 2290-2298, 10.1002/elan.201900435 View PDFView Record in ScopusGoogle Scholar [33] J. Vogelsang, W. Strunz The evaluation of experimental dielectric data of barrier coatings by means of different models Electrochim. Acta, 46 (2001), pp. 3619-3625, 10.1016/S0013-4686(01)00644-2 View PDFView Record in ScopusGoogle Scholar [34] J.B. Jorcin, M.E. Orazem, N. Pébère, B. Tribollet CPE analysis by local electrochemical impedance spectroscopy Electrochim. Acta, 51 (2006), pp. 1473-1479, 10.1016/j.electacta.2005.02.128 ArticleDownload PDFView Record in ScopusGoogle Scholar [35] C.H. Kim, S. Il Pyun, J.H. Kim An investigation of the capacitance dispersion on the fractal carbon electrode with edge and basal orientations Electrochim. Acta, 48 (2003), pp. 3455-3463, 10.1016/S0013-4686(03)00464-X ArticleDownload PDFView Record in ScopusGoogle Scholar [36] R.O. Hussein, D.O. Northwood, X. Nie The effect of processing parameters and substrate composition on the corrosion resistance of plasma electrolytic oxidation (PEO) coated magnesium alloys Surf. Coat. Technol., 237 (2013), pp. 357-368, 10.1016/j.surfcoat.2013.09.021 ArticleDownload PDFView Record in ScopusGoogle Scholar [37] V. Dehnavi, B. Li, D.W. Shoesmith, X. Yang, S. Rohani Effect of duty cycle and applied current frequency on plasma electrolytic oxidation (PEO) coating growth behavior Surf. Coat. Technol., 226 (2013), pp. 100-107, 10.1016/j.surfcoat.2013.03.041 ArticleDownload PDFView Record in ScopusGoogle Scholar [38] Y. Cheng, Z. Xue, Q. Wang, X. Wu, E. Matykina, P. Skeldon, G.E. Thompson Electrochimica Acta New findings on properties of plasma electrolytic oxidation coatings from study of an Al–Cu–Li alloy Electrochim. Acta, 107 (2013), pp. 358-378, 10.1016/j.electacta.2013.06.022 ArticleDownload PDFView Record in ScopusGoogle Scholar [39] X. Ma, C. Blawert, D. Höche, M.L. Zheludkevich, K.U. Kainer Investigation of electrode distance impact on PEO coating formation assisted by simulation Appl. Surf. Sci., 388 (2016), pp. 304-312, 10.1016/j.apsusc.2016.01.030 ArticleDownload PDFView Record in ScopusGoogle Scholar [40] E. Matykina, R. Arrabal, P. Skeldon, G.E. Thompson, P. Belenguer AC PEO of aluminium with porous alumina precursor fi lms Surf. Coat. Technol., 205 (2010), pp. 1668-1678, 10.1016/j.surfcoat.2010.05.014 ArticleDownload PDFView Record in ScopusGoogle Scholar [41] T.W. Clyne, S.C. Troughton A review of recent work on discharge characteristics during plasma electrolytic oxidation of various metals oxidation of various metals Int. Mater. Rev., 64 (2019), pp. 127-162, 10.1080/09506608.2018.1466492 View PDFView Record in ScopusGoogle Scholar [42] X. Lu, S. Prasad, N. Scharnagl, M. Störmer, M. Starykevich, M. Mohedano, C. Blawert, M.L. Zheludkevich, K. Ulrich Degradation behavior of PEO coating on AM50 magnesium alloy produced from electrolytes with clay particle addition Surf. Coat. Technol., 269 (2015), pp. 155-169, 10.1016/j.surfcoat.2014.11.027 ArticleDownload PDFView Record in ScopusGoogle Scholar [43] A. Santos-Coquillat, M. Esteban-Lucia, E. Martinez-Campos, M. Mohedano, R. Arrabal PEO coatings design for Mg-Ca alloy for cardiovascular stent and bone regeneration applications Mater. Sci. Eng. C., 105 (2019), Article 110026, 10.1016/j.msec.2019.110026 ArticleDownload PDFView Record in ScopusGoogle Scholar [44] M. Mohedano, B.J.C. Luthringer, B. Mingo, F. Feyerabend, R. Arrabal, P.J. Sanchez-egido, C. Blawert Bioactive plasma electrolytic oxidation coatings on Mg-Ca alloy to control degradation behaviour Surf. Coat. Technol., 315 (2017), pp. 454-467, 10.1016/j.surfcoat.2017.02.050 ArticleDownload PDFView Record in ScopusGoogle Scholar [45] J. Dou, Y. Zhao, L. Lu, G. Gu, H. Yu, C. Chen Effect of the second-step voltages on the structural and corrosion properties of silicon – calcium – phosphate (Si–CaP) coatings on Mg–Zn–Ca alloy R. Soc. Open Sci., 5 (2018), Article 172410, 10.1098/rsos.172410 View PDFView Record in ScopusGoogle Scholar [46] R. Arrabal, E. Matykina, A. Pardo, M.C. Merino, K. Paucar, M. Mohedano, P. Casajús Corrosion behaviour of AZ91D and AM50 magnesium alloys with Nd and Gd additions in humid environments Corros. Sci., 55 (2012), pp. 351-362, 10.1016/j.corsci.2011.10.038 ArticleDownload PDFView Record in ScopusGoogle Scholar [47] S. Agathopoulos, D.U. Tulyaganov, J.M.G. Ventura, S. Kannan, A. Saranti, M.A. Karakassides, J.M.F. Ferreira Structural analysis and devitrification of glasses based on the CaO–MgO–SiO2 system with B2O3, Na2O, CaF2 and P2O5 additives J. Non. Solids, 352 (2006), pp. 322-328, 10.1016/j.jnoncrysol.2005.12.003 ArticleDownload PDFView Record in ScopusGoogle Scholar [48] S. Peng, M. Li, J. Wang, Q. Tian, S. Wang, B. Tang Corrosion behavior and biological activity of micro-arc oxidation coating with puerarin on pure magnesium surface Results Phys, 12 (2019), pp. 1481-1489, 10.1016/j.rinp.2019.01.021 ArticleDownload PDFView Record in ScopusGoogle Scholar
Collections