Publication:
La reconstrucción de la solidaridad en un contexto neoliberal: doble movimiento y apoyo mutuo tras el 15M (y más allá)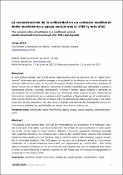 Authors
Advisors (or tutors)
Editors
Abstract
El ciclo político abierto tras el 15M puede interpretarse como la expresión de un "doble movimiento" polanyiano que buscaba proteger a la sociedad de los efectos de la mercantilización en diversas esferas de la vida. En la estela de esas protestas emergieron diferentes iniciativas de apoyo mutuo con un doble objetivo: denunciar la política neoliberal que dificultaba el acceso a necesidades básicas (vivienda, alimentación o renta) y ofrecer apoyo práctico a personas en esa situación de vulnerabilidad. Ese legado del 15M puede verse como un intento deliberado de (re)construir solidaridades en un paisaje social devastado y fragmentado por el neoliberalismo. Este artículo ofrece una reflexión tentativa sobre la dinámica de estas experiencias y los obstáculos con los que tropezaron, de cara tanto a esbozar una agenda de investigación para el futuro como a entrever las posibilidades del apoyo mutuo en la crisis actual.
The political cycle opened after 15M can be interpreted as the expression of a Polanyian "double movement" that seeks to protect society from the effects of commodification in many spheres of life. In the wake of these protests, different mutual-aid grassroots initiatives emerged with a twofold objective: to denounce the cutbacks and market-driven policies that hindered access to basic goods (such as housing, food or income) and to offer practical support to people in vulnerable situation. The 15M legacy can be seen as a deliberate effort to (re)construct solidarities in a social landscape devastated and fragmented by neoliberalism. This article offers a tentative reflection on the dynamics of these experiences and the obstacles they faced, in order to both sketching a research agenda for the future and envisioning the possibilities of mutual aid in the current crisis.
Collections